Top News

IAF F-15 fighter jet. (Credit: via Twitter)

According to Syria's SANA news agency, Israeli jets fired the missiles from Lebanese airspace at about 2:30 a.m. Saturday. The airstrike targeted a possible Iranian surface-to-surface missile factory in a Syrian base in the country's Masyaf region. Satellite images released by Israeli intelligence firm ImageSat Intl. (ISI) showed the complete destruction of the factory.

As the twitter post stated, the factory was under the protection of an advanced Russian S-300 missile defense system. Satellite images released by ISI have showed three out of the four systems erected in Masyaf, with one launcher covered by a camouflage net.

The Rampage, developed by Israel Aerospace Industries (IAI) and Israel Military Industry Systems (IMI),  is 4.7 meters long missile and weighs 570 kilograms. It is guided by a GPS system, making it an all-weather day/night long-range air-to-ground assault missile. It carries a warhead designed for optimal penetration capabilities, allowing for the destruction of targets inside bunkers. Its rocket engine and advanced navigation suit allow for precision targeting at a range of hundreds of kilometers. The missile features an ability to control and monitor the extent of its shrapnel, which will make its strike surgical, accurate and with minimum collateral damage despite the fact the missile spends a lot of time in the air from the minute it is launched until it strikes its target. It supersonic capability makes the Rampage difficult to intercept.

Iranian President Hassan Rouhani at a ceremony commemorating "National Day of Nuclear Technology" in Tehran, Iran on, April 9, 2019. (Iranian Presidency Office via AP)

TEHRAN, Iran (AFP) — Iran's President Hassan Rouhani called on Middle East states on Thursday to "drive back Zionism," in an Army Day tirade against the Islamic republic's arch-foe Israel.

Speaking flanked by top general as troops paraded in a show of might, Rouhani also sought to reassure the region that the weaponry on display was for defensive purposes and not a threat.

"The region's nations have lived alongside each other for centuries and never had a problem… If there is a problem, it is caused by others," he said in the speech broadcast live on state television. "Let us stand together, be together and rid the region of the aggressor's presence."

Illustrative: In this handout file photo provided by the Israeli Army on February 22, 2001, a Patriot anti-missile missile is launched on the last day of joint five-day US-Israeli military exercise in the Negev desert. (Israel Defense Forces/AFP)

The Israeli Air Force conducted successful live-fire tests of its Patriot and Iron Dome missile defense systems on Tuesday, the military said.

The exercise had been subjected to the military censor until Wednesday evening.

"Air defense soldiers from the Israeli Air Force conducted successful interceptions of targets at various heights and ranges," the Israel Defense Forces said in a statement.

The Patriot air defense system is meant to intercept both incoming aircraft and long-range ballistic missiles, while the Iron Dome is designed to shoot down short-range rocket and mortar attacks, as well as some aircraft.

Maj. Gen. Yoel Strick, head of the IDF Northern Command, in an undated photograph. (Israel Defense Forces)

The new commander of the IDF's Ground Forces said Thursday the Lebanese terrorist group Hezbollah was still planning to carry out a surprise invasion of northern Israel, despite the recent Israeli operation to uncover and destroy an extensive network of cross-border attack tunnels dug by the Iran-backed militia.

Maj. Gen. Yoel Strick was tapped to lead the military's Ground Forces in February, amid increased criticism charging that Israeli troops were not prepared for war. His comments came less than four months months after the IDF concluded its anti-tunnel operation along the Lebanese border.

"Hezbollah still has plans to invade the Galilee," he told the Ynet news site in an interview, referring to entering Israeli territory through a cross-border tunnel network. "Of course we won't allow that to happen, we will thwart these plans."

Prime Minister Benjamin Netanyahu (L) shakes hands with Israeli President Reuven Rivlin as he is formally given the task to form the next government, at the president's residence in Jerusalem on March 25, 2015. (photo credit: AFP PHOTO / MENAHEM KAHANA)

Prime Minister Benjamin Netanyahu secured the backing of a majority of Knesset members Tuesday as Yisrael Beytenu, the Union of Right-Wing Parties and Kulanu recommended him to form the next government in their official consultations with President Reuven Rivlin.

With 10 of the 11 parties elected to the Knesset having presented their recommendations to Rivlin (the Arab Ra'am-Balad party was meeting with him later Tuesday), Netanyahu has the backing of 65 MKs, a majority of the 120-seat Knesset. Blue and White leader Benny Gantz, in contrast, has just 45.

The president said his choice is now "all but certain" and he is expected to entrust the task of forming a government to Netanyahu, who is likely to be able to build a coalition of up to 65 seats comprising Likud (35 or 36 seats), the ultra-Orthodox Shas (8), United Torah Judaism (7 or 8), Union of Right-Wing Parties (5), Kulanu (4), and, likely, Yisrael Beytenu (5).
---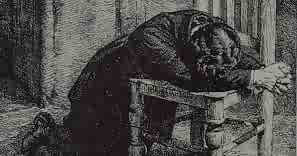 "The men who have done the most for God in this world have been early on their knees. He who fritters away the early morning, its opportunity and freshness, in other pursuits than seeking God will make poor headway seeking Him the rest of the day. If God is not first in our thoughts and efforts in the morning, He will be in the last place the remainder of the day." 
― E.M. Bounds