Top News

Republican U.S. presidential candidate Donald Trump reacts on stage as his wife Melania (L) and daughter Ivanka (R) look on at his 2016 New Hampshire presidential primary night rally in Manchester, New Hampshire February 9, 2016. (photo: Reuters, Mike Segar)

Republican Donald Trump and Democrat Bernie Sanders coasted to victory on a wave of voter anger in the New Hampshire presidential nominating contest, thrashing traditional U.S. politicians in a display of anti-establishment power.

Sweeping wins by Trump, a New York billionaire, and Sanders, a democratic socialist, on Tuesday testified to the sizable share of American voters upset at U.S. economic conditions and willing to send a shockwave to Washington in the Nov. 8 presidential election.

New Hampshire's verdict sets up a tough fight for Republicans in South Carolina on Feb. 20 and for Democrats there on Feb. 27. Some of the most monumental campaign battles in elections past have been fought in the state that holds the first primary election of the American South.

A gold bar. Yield on the 10-year Treasury note has declined, but the price of gold is up. Credit Simon Dawson/Bloomberg

An unsettling trend has emerged from the heavy selling that sent global markets tumbling this year: Investors are getting nervous about the world's biggest banks.

The concerns about the banks are clearly reflected in the stock markets, where shares in banking giants are plunging. But there are also ominous signs in markets that investors use to bet on the perceived creditworthiness of large financial firms.

A crucial benchmark for the banking sector, the KBW Nasdaq Bank Index, was down more than 3 percent on Monday and had lost nearly 20 percent of its value this year.

Illustrative: Former IDF chiefs of staff (from left) Benny Gantz, Dan Halutz, Ehud Barak, Amnon Lipkin-Shahak and Shaul Mofaz in Tel Aviv, October 2011 (Meir Partush/Flash90)

A cyber-hacker working for Iran hacked the computer of a former IDF chief-of-staff, an Israeli television report said Tuesday, and gained access to the unnamed army chief's entire computer database.

The hacker was named by Channel 10 as Yaser Balaghi. He was said to have subsequently bragged about the hack, but he also inadvertently left behind a means to trace his identity. That error prompted Iran to halt the hacking operation, which targeted 1,800 people worldwide, including Israeli army generals, human rights activists in the Persian Gulf and scientists.

The Times of Israel reported on the Iranian hacking operation two weeks ago, after an Israeli cyber-security firm, Check Point, revealed its existence. Tuesday's Channel 10 report also cited information from Check Point.

Prime Minister Benjamin Netanyahu and Finance Minister Moshe Kahlon (Photo: Amit Shavi)

Credit rating agency says that 'the stable outlook reflects our expectation that the government will maintain stable public finances and that the impact of security risks on the Israeli economy will be contained'.

New Hampshire voters are having to deal with the snow as they get ready to vote on Tuesday; Ted Cruz's bus is shown here while someone clears snow off a sidewalk nearby. (photo: NYT)

A rambunctious herd of presidential candidates dashed across a snowy New Hampshire on Monday, making last-ditch efforts to persuade undecided voters on the eve of the nation's first primary election, the outcome of which could bring a dose of clarity to a campaign that has become surprisingly muddled.

In a final exchange of cutting accusations over money and preparedness for the White House, the Republican and Democratic contenders urgently jockeyed for advantage in what remain two surprisingly fluid contests.

Asian share markets were scorched on Tuesday as stability concerns put a torch to European bank stocks and sent investors stampeding to only the safest of safe haven assets.

As fear overwhelmed greed, yields on longer-term Japanese bonds hit zero for the first time ever, the yen surged to a 15-month peak and gold reached its most precious since June.

A stock plunge by Europe's banks deepened Monday, while credit markets showed investors are most worried in years about lenders' bond risks.

"It's a perfect storm," said David Moss, who helps to oversee more than $237 billion of assets as head of European equities at BMO Global Asset Management in London. "People think 'the share price must be telling me something' and that induces ongoing panic. It's been a pretty indiscriminate selloff."

The Stoxx Europe 600 Index slid 3.5 percent to 314.36 at the close of trading and Greece's ASE Index plunged to its lowest level since 1990. No industry or market in western Europe was spared. While Greek lenders extended a record low, banks in the region dropped to their lowest levels since 2012.

The rout fueled by concern over the strength of the economic recovery took European stocks to their lowest levels in more than a year, with Greek shares again suffering the most.

German Chancellor Angela Merkel expressed outrage over Russian-backed attacks in Syria as a government offensive drives thousands of civilians to the Turkish border, exacerbating the already critical refugee crisis Merkel is struggling to resolve.

"We're not only shocked, but also outraged, at what's happened in terms of human suffering in the past few days for tens of thousands of people through bomb attacks, including attacks above all from Russia," Merkel told reporters in Ankara on Monday after meeting with Turkish Prime Minister Ahmet Davutoglu.

File: US President Barack Obama (right) and Israeli Prime Minister Benjamin Netanyahu hold a meeting in the Oval Office of the White House in Washington, DC, November 9, 2015. (AFP/Saul Loeb)

A senior American official has reportedly urged the Israeli government to sign a 10-year military aid agreement that the Obama administration is offering and not wait for the next US president in the hopes of securing a better deal.

Despite a "particularly challenging budget environment" in the US, the administration is willing to sign a memorandum of understanding for "the largest single pledge of military assistance to any country in US history," a senior US official told the Haaretz newspaper Sunday night.

The official spoke after Prime Minister Benjamin Netanyahu told ministers at the weekly cabinet meeting earlier in the day that "perhaps we won't succeed in reaching agreement with this administration and will have to reach an agreement with the next administration."

Former Palestinian peace negotiator Nabil Shaath said in an interview earlier this month that he often asks Westerners whether Arabs have to "hijack your planes and destroy your airports again" to make the world take notice of the Palestinian cause.

In a February 1 interview with the Palestinian Authority's Awdha TV, translated by MEMRI, Shaath slammed American efforts at Israeli-Palestinian peacemaking.

Asked about a French proposal for an international peace conference, Shaath replied, "Well, anything is better than American control of the negotiations. Anything. The US has never been a reliable honest broker. Never. It is the strategic ally of Israel. Period. Therefore any discussion of a different formula is a positive thing."

Ambassador to the UN Danny Danon demanded a retraction on Monday from UN Secretary- General Ban Ki-moon of his recent statements in which he said the terrorist attacks by Palestinians against Israelis are a reaction of human nature to occupation.

Danon explained in a letter sent to the Secretary-General that a spokesperson for Fatah excused last week's terror attack at the Damascus Gate in Jerusalem's Old City in which 19-year-old Border Police officer Hadar Cohen was killed by saying that the attack was spurred by "the violation of occupation," against the Palestinian people and was "a natural response." 

In a speech at the monthly Security Council debate on the Middle East earlier this month, Secretary- General Ban Ki- Moon, addressing the issue of Palestinian terror, said that "as oppressed peoples have demonstrated throughout the ages, it is human nature to react to occupation, which often serves as a potent incubator of hate and extremism."

Fatah official Azzam al-Ahmad (L) and Hamas leader Ismail Haniyeh. (photo: Reuters)

Hamas and Fatah representatives were scheduled to begin talks in Doha, Qatar, on Sunday in yet another bid to end their dispute and implement previous reconciliation agreements signed between the two sides.

On the eve of the talks, both Hamas and Fatah expressed cautious optimism regarding the prospects of reaching a deal that would end their rift.

The Fatah team is led by Azzam al-Ahmed and Sakher Bsaisso, while Hamas dispatched a delegation to the talks headed by Musa Abu Marzouk.
---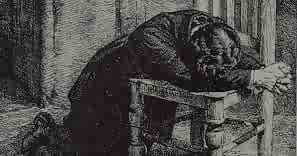 "The men who have done the most for God in this world have been early on their knees. He who fritters away the early morning, its opportunity and freshness, in other pursuits than seeking God will make poor headway seeking Him the rest of the day. If God is not first in our thoughts and efforts in the morning, He will be in the last place the remainder of the day." 
― E.M. Bounds