Top News

Homeland Security Secretary John Kelly testifies on Capitol Hill in Washington, Thursday, May 25, 2017, before a Senate Appropriations subcommittee on the Homeland Security Department's fiscal 2018 budget. (AP Photo/Susan Walsh)

Department of Homeland Security Secretary John F. Kelly pushed back Friday against comments made by former President Barack Obama about constructing a border wall.

"We're not hiding behind a wall. We're constructing physical barriers backed up by technology, and of course the great men and women of customs and border protection, to simply safeguard our Southern border," Mr. Kelly said on Fox News. "We're not hiding behind a wall, and you can't defend anything by hiding behind something."

Mr. Obama said in Berlin Thursday that the United States cannot "hide behind a wall" to avoid problems. The former president was in Europe to deliver a speech at the Brandenburg Gate to mark the 500th anniversary of the Protestant Reformation with Chancellor Angela Merkel.

German Chancellor Angela Merkel and President Donald Trump pose for a family photo with G7 leaders at the Ancient Greek Theater of Taormina, Friday, May 26, 2017, in Taormina, Italy. (AP Photo/Evan Vucci)

President Trump resisted some intense lobbying by leaders of other industrialized nations Friday to back the Paris climate-change agreement at a G-7 summit in Sicily, Italy.

After hours of discussions, Italian Prime Minister Paolo Gentiloni told reporters that the U.S. position on the Paris accord remains an "open question."

"All others have confirmed their total agreement on the accord," he said of the leaders of Germany, Japan, Italy, Britain, France and Canada. Former President Barack Obama signed the Paris agreement to limit carbon emissions in 2015, but Mr. Trump is weighing a move to pull the U.S. out of the deal. He promised to do so during the campaign last year.

German Chancellor Angela Merkel said the group's discussions with Mr. Trump Friday on the climate-change deal were "controversial" and "very intensive."

Two Chinese J-10 fighter jets came within several hundred feet of a U.S. Navy P-3 Orion over the South China Sea on Thursday local time, U.S. officials said.

The fighters flew 200 yards in front of the P-3 maritime surveillance aircraft with an altitude separation of 100 feet, an encounter the commander of the U.S. aircraft determined as "unsafe and unprofessional," U.S. officials said.

According to a U.S. official, the Chinese jets were weaving ahead of the American plane, an action that concerned the U.S. pilot.

Egyptian security forces stand guard around the Coptic Catholic College of Theology and Humanities in the southern Cairo suburb of Maadi on April 29, 2017, during Pope Francis's visit to the country. (AFP/Aly Fahim)

Masked gunmen opened fire on a bus carrying Coptic Christians south of the Egyptian capital on Friday, killing at least 26 people, including children, and wounding 25, officials said.

No group immediately claimed responsibility for the attack, which came on the eve of the Muslim holy month of Ramadan.

The assault happened while the bus was traveling on the road to Saint Samuel the Confessor Monastery in Maghagha, in the Minya governorate, about 220 kilometers (140 miles) south of Cairo, security officials said.

The officials cited witnesses as saying they saw between eight and 10 attackers, dressed in military uniforms and wearing masks. The victims were traveling from the nearby province of Bani Suief to visit the monastery.

U.S. President Donald Trump on Thursday intensified his accusations that NATO allies were not spending enough on defense and warned of more attacks like this week's Manchester bombing unless the alliance did more to stop militants.

In unexpectedly abrupt remarks as NATO leaders stood alongside him, Trump said certain member countries owed "massive amounts of money" to the United States and NATO -- even though allied contributions are voluntary, with multiple budgets.

His scripted comments contrasted with NATO's choreographed efforts to play up the West's unity by inviting Trump to unveil a memorial to the Sept. 11, 2001, attacks on the United States at the new NATO headquarters building in Brussels.

Jason Greenblatt meets Palestinian Authority President Mahmoud Abbas.(Photo by: WAFA)

US Mideast envoy Jason Greenblatt returned to Israel on Thursday and met with Prime Minister Benjamin Netanyahu and PA President Mahmoud Abbas to follow up on conversations they each had with President Donald Trump during his visit.

The Prime Minister's Office provided no details of the meeting. It did, however, deny a report that the US was pushing Israel to transfer parts of Area C – areas under full Israeli military and civil control in northern Samaria – to Area B, territory under Israeli security control but under Palestinian administrative jurisdiction.

Pope Francis addresses journalists during the traditional press conference on his flight back to Rome, following a two-day visit at Fatima, Portugal, May 13, 2017. (Tiziana Fabi/Pool via AP)

Israeli and Vatican officials have launched talks to discuss the possibility of Pope Francis paying a visit to Israel and the wider region in a bid to push peace between Israelis and Palestinians.

A Vatican delegation is expected in Israel next month and is looking at three possible dates for a potential visit this coming fall, Channel 10 reported Thursday, citing unnamed Vatican sources.

There was no immediate confirmation from the Vatican.

The report came a day after the pope met with US President Donald Trump in Rome. Trump on Tuesday wrapped up a Middle East visit that included Israel, the Palestinian Authority, and Saudi Arabia.

President Trump boards Air Force One to Brussels on Wednesday for a Group of Seven summit. (Associated Press)

As he heads to the Group of Seven summit and weighs whether to pull the U.S. from the Paris climate accord, President Trump is facing renewed pressure at home and abroad and from the Holy Father to remain a part of the deal.

White House officials say Mr. Trump won't make a decision on Paris until he returns from the gathering of leading industrial nations, which runs through the weekend. It will be the first time world leaders can make a unified case to the president's face in support of the agreement.

During his election campaign, Mr. Trump vowed to withdraw from the pact, which requires the U.S. to cut its greenhouse gas emissions at least 26 percent by 2025, a lofty goal by all accounts.

In this Saturday, May 20, 2017 file photo, President Donald Trump holds a sword and sways with traditional dancers during a welcome ceremony at Murabba Palace, in Riyadh. Trump and his entourage were treated to a traditional all-male Saudi sword dance. Standing shoulder-to-shoulder with the Saudi king, Trump swayed side to side and briefly joined the groove. (AP Photo/Evan Vucci, File)

President Trump arrived in the Arabian desert hoping to realign the politics of the Middle East in the aftermath of a failed Obama policy. For eight years, President Obama tilted in the direction of Iran, believing that the influence of the Shia could balance Sunni dominance. The so-called nuclear deal with Iran was a geopolitical manifestation of this policy perspective. To put it simply, the policy didn't work. In fact, it led to the widespread belief that the United States tacitly endorsed the Shia crescent or the imperial Iranian design.

President Trump hinted that this has to be corrected. With his May 21 speech, there is no doubt the United States will push back on previous policy and offer Saudi Arabia and other regional Sunni partners a reliable counterweight to Iranian ambitions.

In previous documents produced by the London Center for Policy Research, a Gulf States Red Sea Treaty Organization was proposed. Mr. Trump has called it an Arab NATO. As the president noted in his speech, the nations in the region have a primary responsibility to attack terrorism and the state sponsors of terrorism. He noted perspicaciously that the United States would not invest major troop deployments for this mission, but the U.S. will engage with its allies in logistical support, sophisticated arms, special forces when necessary, and intelligence on enemy movements and strategy.

The EU's Mr Tusk (L) is aiming to convince Mr Trump of the need for more co-operation

US President Donald Trump is in Brussels for what his team is describing as "tough" talks with other members of the Nato military alliance.

Nato has agreed to Mr Trump's request to join the US-led coalition against so-called Islamic State. 

But he may also press members to pay their full financial share. 

Mr Trump has already met EU leaders. EU President Donald Tusk said they had agreed on "many areas" but had differences on Russia.

"I'm not 100% sure we can say that we have a common position, a common opinion on Russia, although when it comes to the conflict on Ukraine we were on the same line," he said.

U.S. President Donald Trump and his wife Melania visit the Sistine Chapel after a private audience with Pope Francis at the Vatican, May 24, 2017. (photo: Osservatore Romano, Handout via Reuters)

After a warm welcome in the Middle East and a "fantastic" visit with the pope, U.S. President Donald Trump walks on shakier ground on Thursday when European Union and NATO leaders will press him on defense, trade, and environmental concerns.

The Republican president, midway through his first foreign trip since taking office, has basked in the glow of favorable receptions in Riyadh and Jerusalem, where leaders lauded his harsh words for Iran.

Praise may be in shorter supply in Brussels.

Trump questioned the relevance of the NATO military alliance as a presidential candidate, and is considering pulling the United States out of the Paris agreement on climate change - a huge concern in Europe. The EU was also a party to the Iran nuclear agreement, which Trump has criticized sharply.
---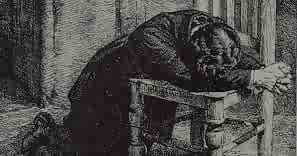 "The men who have done the most for God in this world have been early on their knees. He who fritters away the early morning, its opportunity and freshness, in other pursuits than seeking God will make poor headway seeking Him the rest of the day. If God is not first in our thoughts and efforts in the morning, He will be in the last place the remainder of the day." 
― E.M. Bounds