Top News

Jan Markell interviews Bill Koenig about  "Revealed – Obama's Legacy" in program 1 and other news in program 2. 

Two 60-minute programs: 

For program 1: click here 

For program 2: click here

     To order "Revealed – Obama's Legacy" click here

Former PLO chairman Yasser Arafat, then foreign minister Shimon Peres and then prime minister Yitzhak Rabin (from L to R) show their shared Nobel Peace Prize awards to the audience in Oslo in this December 10, 1994 file photo. (photo credit:REUTERS)

"Shimon Peres remained committed to Oslo until his last breath," Yair Hirschfeld, whose secret contacts with Palestinian leader Ahmed Qurei (Abu Ala) paved the way for the negotiations that led to the 1993 Oslo I Agreement, told The Jerusalem Post on Wednesday.

To be sure, Peres never voiced regret for Oslo even though it became a dirty word for many Israelis, conjuring up images of exploding buses and a second, more violent, intifada. As late as 2011, as president, he engaged in secret contacts in Amman with his Palestinian counterpart, Mahmoud Abbas, aimed at resolving issues left open by the Oslo Accords.

A framed photograph of former Israeli president Shimon Peres is displayed with a memorial candle at the entrance to the President's Residence in Jerusalem, on September 28, 2016. (photo: Flash90, Hadas Parushl)

Police on Wednesday issued hasty traffic notifications across Jerusalem as security services prepared for the arrival of dozens of foreign heads of state, ministers and public figures making their way to Israel to attend the funeral ceremony in the capital on Friday of former president Shimon Peres, who died early Wednesday morning at the age of 93.

Thousands of Israelis were also expected to pay their tributes to the last of the country's founding fathers as his body will his lie in state at the Knesset starting at 9:00 a.m. Thursday morning. Members of the public will be able to file past the casket to pay their last respects to the former president and prime minister for the next 12 hours.

Peres's body will be moved to the Mount Herzl cemetery Friday at 8:30 a.m. and the official state ceremony will begin at 9:30 a.m. After the eulogies, a procession will head out at 11:00 a.m. to the cemetery's Great Leaders of the Nation section where a burial ceremony will then begin at 12:00 p.m. Peres will be interred between the late prime ministers Yitzhak Shamir and Yitzhak Rabin.

Peres and Hollande. (photo: Reuters)

The White House confirmed Wednesday night that US President Barack Obama "will lead the US delegation to Jerusalem to participate in the funeral."

Obama would depart for Israel on Thursday and return after the ceremony on Friday, the White House said. Vice President Joe Biden and Secretary of State John Kerry were also expected to attend.

Former US president Bill Clinton, a longtime friend of Peres since his term in the White House during the height of the Oslo peace process in the 1990s, is also slated to attend.

(Click the link above to see the list.)

Republican presidential candidate Donald Trump extended his condolences to the family of former president Shimon Peres, who died early Wednesday two weeks after suffering a severe stroke.

Trump lauded the "dignity and grace" of Israel's last founding father.

"Melania and I extend our deepest condolences to the family of Shimon Peres on the passing of their beloved father, grandfather and great-grandfather," he said in a statement.

Peres and Obama. (photo: GPO/Flash90, Kobi Gideon)

White House, public buildings, US embassies, military posts and naval stations across the world to lower flag to half-staff following death of Israeli elder statesman.

In a White House proclamation sent out overnight Wednesday-Thursday entitled "Death of Shimon Peres", Obama said he has instructed "that the flag of the United States shall be flown at half-staff at the White House and on all public buildings and grounds, at all military posts and naval stations, and on all naval vessels of the Federal Government in the District of Columbia and throughout the United States and its Territories and possessions until sunset, on September 30, 2016."

Former Israeli Prime Minister Shimon Peres dies at 93. (photo: Jerusalem Post, Marc Israel Sellem)

Shimon Peres, former president, former prime minister, former defense minister, former foreign minister, former minister of eight other ministries, the last surviving member of Israel's founding fathers, and winner of the 1994 Nobel Peace Prize died Tuesday after suffering a stroke two weeks ago. He was 93.

Doctors said Peres suffered severe organ failure Tuesday, as well as irreversible brain damage caused by the massive hemorrhagic stroke he sustained on September 13.

The longest serving of all of Israel's public servants, Peres was a person about whom it could rightly be said: The history of the State of Israel is the history of Shimon Peres.

Netanyahu and then-president Peres welcome home gold medalist in tennis Noam Gershoni after the 2012 London Summer Paralympics. (photo: GPO/Jerusalem Post, Amos Ben-Gershom)

Prime Minister Benjamin Netanyahu and his wife expressed their condolences early Wednesday morning at the passing of Israel's ninth president and internationally cherished diplomat emeritus Shimon Peres.

Few are the people in Israel's history who have done as much for the state and the Jewish people as Shimon Peres, Netanyahu said in a statement released just before a special cabinet meeting he is convening to honor the former president.

"Like all the citizens of Israel, the whole Jewish people, and many in the world, I bow my head in memory of our beloved Shimon Peres," he said in a statement.
---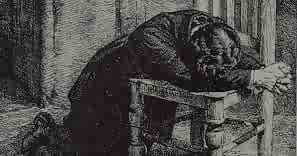 "The men who have done the most for God in this world have been early on their knees. He who fritters away the early morning, its opportunity and freshness, in other pursuits than seeking God will make poor headway seeking Him the rest of the day. If God is not first in our thoughts and efforts in the morning, He will be in the last place the remainder of the day." 
― E.M. Bounds