Top News

The coldest and most widespread blast of arctic air so far this season will spread across the majority of the United States this week.

Frigid air from the depths of the Arctic will plunge into the United States as the jet stream (a fast-river of air along which storms travel) drops southward.

The coldest days of next week will yield highs and lows generally 10-20 degrees Fahrenheit below normal from the Northwest to the Gulf and East coasts.

Departures from normal highs will even approach 30 degrees in Billings, Montana, and Denver, Colorado.

German Chancellor Angela Merkel greets leaders at the G5 summit in Hanover in April this year Getty Images

An image of German Chancellor Angela Merkel, French President Francois Hollande, America's outgoing President Barack Obama, Italy's newly resigned Prime Minister Matteo Renzi and former British Prime Minister David Cameron speaks volumes about the turmoil seen in world politics over the course of this year.

The picture was taken in April this year at a G5 summit, but only one of these world leaders is still in a position of power and also seeking another term in office in the next year following a series of shocking events, from the UK voting to leave the European Union to Italy voting against constitutional reform, resulting in the resignation of two European prime ministers in the space of six months.

 

Mr Renzi announced his resignation on Monday following the crushing defeat in Italy's referendum on constitutional reform in which nearly 60 per cent of people voted against his proposals. The result caused a sharp fall in the value of the Euro against the dollar, with the currency at one point dropping to $1.0507, the lowest level since March 2015. The result has implications for the country's struggling banks and has raised questions over its membership of the EU. 

Christian politician and FPM founder Michel Aoun talks during a news conference in Beirut, Lebanon October 20, 2016. (photo credit:REUTERS)

The Lebanese parliament elected former army commander and Hezbollah ally Michel Aoun as president on Monday, ending a 29-month presidential vacuum as part of a political deal that is expected to make Sunni leader Saad al-Hariri prime minister.

Aoun, who is in his 80s, secured the presidency by winning the support of at least 65 MPs, or an absolute majority of the members of the 128-seat chamber, according to a Reuters tally of votes read out in a televised broadcast from parliament.

Lindsey Graham at CUFI summit. (photo credit:DPA PICTURE-ALLIANCE/AFP)

Whether Israel likes it or not, the United States Senate will aggressively promote legislation next month aimed at cutting funding to two key allies of the Jewish state – the Palestinian Authority and Egypt, Sen. Lindsey Graham told The Jerusalem Post.

A longtime and vocal supporter of Israel, former US presidential candidate Graham told the Post that as chairman of the Senate's Foreign Operations Subcommittee, he will work to cut US aid to the PA for continuing to pay stipends to imprisoned Palestinian terrorists and to Egypt for its recent legislative crackdown on NGOs.

Prime Minister Benjamin Netanyahu, right, speaks with Education Minister Naftali Bennett, left, during a plenum session in the Knesset on December 5, 2016. Yonatan Sindel/Flash90)

The Knesset plenum on Monday approved a new draft of a bill to recognize West Bank settlement outposts, a controversial measure castigated by its opponents as an illegal land grab that paves the way for Israel to recognize some 4,000 settler homes built on private Palestinian land.

After a raucous plenary session that saw opposition lawmakers screaming and ripping up copies of the proposed legislation, the revised so-called Regulation Bill — which received ministerial approval just hours before — sailed through Israel's parliament, clearing its first legislative hurdle by a count of 60 MKs for and 49 against.

The Knesset discussion on the bill began stormily with a speech by Jewish Home MK Betzalel Smotrich that descended into chaos, as opposition lawmakers attempted to shout him down and drown him out by banging on tables.

PM Benjamin Netanyahu and US Secretary of State John Kerry. (photo: Reuters)

After four years as secretary of state that featured 375 public conversations with Prime Minister Benjamin Netanyahu and 40 in-person visits, John Kerry appeared frustrated Sunday that more than 130 hours of conversation have failed to slow Israel's settlement construction in the West Bank.

Israel is "heading to a place of danger," Kerry told the Saban Forum in Washington, warning of "an erosion over a period of time" of the chances for a real and lasting Israeli-Palestinian peace "by virtue of this continued settlement process."

He spoke two hours after the prime minister told the same forum that settlement activity is not the reason for the absence of peace. Kerry pushed back.

Israeli Prime Minister Benjamin Netanyahu opens the weekly cabinet meeting at his Jerusalem office December 4, 2016. (Reuters, Gali Tibbon, Pool)

Israeli Prime Minister Benjamin Netanyahu said on Sunday he would discuss with Donald Trump the West's "bad" nuclear deal with Iran after the U.S. president-elect enters the White House.

Speaking separately to a conference in Washington, Netanyahu and U.S. Secretary of State John Kerry clashed over the Iran deal and Israel's settlement construction on the occupied West Bank, which Kerry depicted as an obstacle to peace.

During the U.S. election campaign, Trump, a Republican, called last year's nuclear pact a "disaster" and "the worst deal ever negotiated". He has also said it would be hard to overturn an agreement enshrined in a U.N. resolution.

Europol director Rob Wainwright poses for a picture during an interview in The Hague, Netherlands, Friday, Dec. 2, 2016 (AP Photo/Mike Corder)

Europol warned Friday that the Islamic State group could launch fresh attacks in Europe in the near future, and the agency's director said police forces across the continent are investigating more than 50 terrorism cases.

Europol — the European Union's police agency — said in a grim analysis of IS tactics published Friday that EU countries participating in the US-led coalition fighting the extremist group in Syria and Iraq are most at risk.

France and Belgium are among the European nations that have joined the US-led coalition. Others include Britain, the Netherlands and Denmark. Germany's military also is involved, but not in combat operations.

Europol director Rob Wainwright said in an interview that counterterrorism agencies are tackling the threat from IS in cooperation with his Hague-based agency. Europol currently is assisting more than 50 terror investigations by national agencies across the continent, he said.

President-elect Donald Trump kicked off his post-election "Thank You" tour Thursday by announcing that he would nominate retired Marine Gen. James Mattis as secretary of defense. 

At a rally in Cincinnati, Trump described Mattis as "one of our great, great generals" and added that a formal announcement would be made Monday, "so don't tell anybody." 

"They say he's the closest thing to Gen. George Patton that we have," Trump told the crowd, "and it's about time. It's about time."
---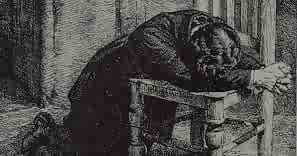 "The men who have done the most for God in this world have been early on their knees. He who fritters away the early morning, its opportunity and freshness, in other pursuits than seeking God will make poor headway seeking Him the rest of the day. If God is not first in our thoughts and efforts in the morning, He will be in the last place the remainder of the day." 
― E.M. Bounds