Top News

Palestinian Authority officials cautiously welcomed news on Monday that Jared Kushner, Donald Trump's Jewish son-in-law, will serve as the president-elect's Middle East peace envoy, expressing hope that he will maintain a fair balance regarding the ongoing conflict with Israel.

"We hope that Mr. Kushner will be the US peace envoy and will be able to do what all of his predecessors have tried to do, and will finally achieve peace between Israelis and Palestinians," Husam Zomlot, PA President Mahmoud Abbas's adviser for strategic affairs, told The Jerusalem Post. "This is a position that requires a firm commitment to the US's long held policies."

"It's a good sign that President-elect Trump early on appointed one of his closest people to him, his son-in-law, to take this task," Zomlot added. "We don't just see the glass half-empty, but also half-full. We see the commitment by President-elect Trump to intervene as early as possible and spend political capital to resolve this issue."

President-elect Donald Trump (L) with son-in-law Jared Kushner during an election night party at a hotel in New York, November 9, 2016. (AFP Photo/Mandel Ngan)

US President-elect Donald Trump has confirmed that he intends to use his Jewish son-in-law Jared Kushner to try to broker an elusive peace deal between Israel and the Palestinians.

Speaking to The Times of London just days before his inauguration Trump "confirmed that he would appoint Jared Kushner, his son-in-law, to broker a Middle East peace deal," the paper said.

Trump also urged the United Kingdom to veto any new UN Security Council resolution critical of Israel and repeated his criticism of President Barack Obama's handling of the Iran nuclear deal, The Times said.

His comments come days after Trump named Kushner as a senior adviser in the upcoming administration, apparently skirting anti-nepotism regulations.

Officials pose for a group photo during the Mideast peace conference in Paris on January 15, 2017 (AFP PHOTO / POOL / Bertrand GUAY)

US Secretary of State John Kerry (C) attends the Mideast peace conference in Paris on January 15, 2017.(AFP PHOTO / POOL / bertrand GUAY)

US Secretary of State John Kerry called Prime Minister Benjamin Netanyahu Sunday from the Paris peace conference, promising to prevent any followup action to a resolution set to be drawn up on Sunday, either at the confab itself or at the United Nations Security Council.

After a month of chilly ties between Washington and Jerusalem, Kerry updated Netanyahu about the steps he was taking to "soften" the text of the final communique, which is expected to be issued by the conference participants later Sunday.

The prime minister told Kerry that the outgoing administration had already caused Israel damage last month by not vetoing UN Security Council Resolution 2334, which criticized the settlements. No other resolution should be passed, Netanyahu said, neither in New York nor in Paris.

Kerry promised Netanyahu that there will not be any followup action to the Paris conference and that Washington will oppose any further political action at the Security Council.

French Minister of Foreign Affairs Jean-Marc Ayrault addresses delegates at the opening of the Mideast peace conference in Paris on January 15, 2017. (AFP PHOTO / POOL / Thomas SAMSON)

France's foreign minister said on Sunday a proposal by US President-elect Donald Trump to move the American embassy to Jerusalem would be a provocation with serious consequences.

"Of course (it's a provocation). I think he would not be able to do it," Jean-Marc Ayrault told France 3 television amid a conference on the Middle East peace process in Paris. "It would have extremely serious consequences and it's not the first time that it's on the agenda of a US president, but none have let themselves make that decision.

"One cannot have such a clear-cut, unilateral position. You have to create the conditions for peace."

Prime Minister Benjamin Netanyahu attends the weekly cabinet meeting at his office in Jerusalem on January 15, 2017. (AFP Photo/Pool/Ronen Zvulun)

As a multinational conference to relaunch Israeli-Palestinian peace efforts convened in Paris on Sunday, Prime Minister Benjamin Netanyahu again dismissed the French initiative, calling it a "pointless" endeavor that was inherently anti-Israel.

"The conference that is convening today in Paris is a pointless conference," he told ministers at the start of the weekly cabinet meeting on Sunday.

"It was coordinated by the French and the Palestinians and aims to force conditions on Israel that conflict with our national interests," the prime minister said.

French Minister of Foreign Affairs Jean-Marc Ayrault (L) shakes hands with Saudi Foreign Minister Adel al-Jubeir during the opening of the Mideast peace conference in Paris on January 15, 2017. (AFP PHOTO / POOL / THOMAS SAMSON)

Donald Trump in the lobby of Trump Tower in New York, January 13, 2017. Evan Vucci/AP Photo

Senior French officials met a few weeks ago in New York with President-elect Donald Trump's advisers and presented the program for the international peace conference to be held Sunday in Paris, Haaretz has learned. Trump's team was said to have objected strenuously to the very holding of the conference, especially at this time, five days before Trump's inauguration.

The Paris conference is not expected to produce practical decisions, but rather to serve as declarative event of the international community's intentions toward the Middle East peace process. According to French diplomats, the conference is being held at this time, a few days before the inauguration, to convey a message to the president-elect about the importance the international community ascribes to resolving the Israeli-Palestinian conflict and the extent of international consensus.

Representatives from some 70 countries and organizations are to attend the conference, including 40 foreign ministers from several Arab and Western countries. For outgoing U.S. Secretary of State John Kerry, this is expected to be the last international event he will be attending before his term ends on January 20.
 

Egypt's Foreign Minister Sameh Shoukry (Reuters)

Egypt's foreign minister, Sameh Shoukry, will attend the international peace conference in Paris on Sunday, in which he will give a speech on the Israel-Palestinian Authority (PA) peace talks, the Egyptian newspaper Al-Ahram reported Saturday.

Shoukry is set to chair the Egyptian delegation at the conference, said a statement by foreign ministry spokesman Ahmed Abu Zeid.

In his speech, Shoukry is expected to "outline Egypt's vision on reaching a just and comprehensive settlement for the Palestinian cause, which is considered the cornerstone of stability and peaceful coexistence in the region," Abu Zeid added.

Pope Francis (R) talks with Palestinian President Mahmoud Abbas during a private audience at the Vatican City, May 16, 2015.. (photo credit: REUTERS)

Palestinian Authority President Mahmoud Abbas warned on Saturday that if incoming US president Donald Trump follows through on his plans to move his country's embassy from Tel Aviv to Jerusalem, it would "certainly not be a help" to the stalled peace process.

Abbas made the remark during a brief address to reporters in Rome, following a 23-minute audience with Pope Francis, the third meeting between the two men.

Abbas also officially opened the small PA embassy to the Vatican just outside its walls, a year and a half after the Vatican recognized the Palestinian state.

The embassy is housed in a building owned by the Vatican, which began renting it to the PA last year.
 
---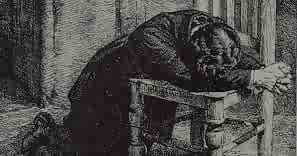 "The men who have done the most for God in this world have been early on their knees. He who fritters away the early morning, its opportunity and freshness, in other pursuits than seeking God will make poor headway seeking Him the rest of the day. If God is not first in our thoughts and efforts in the morning, He will be in the last place the remainder of the day." 
― E.M. Bounds