"Eye to Eye" chronology of Tuesday, January 28 to Friday, January 31
12:09 to 12:56 pm EST: Trump introduces the Israeli-Palestinian "Peace to Prosperity" plan. Prime Minister Netanyahu's comments and approval of Trump (https://www.whitehouse.gov/peacetoprosperity/)
Video: https://www.c-span.org/video/?468641-1/president-trump-announces-middle-east-peace-plan
1:26 pm EST: Trump tweets new Israel-Palestine map to his 71.8 million followers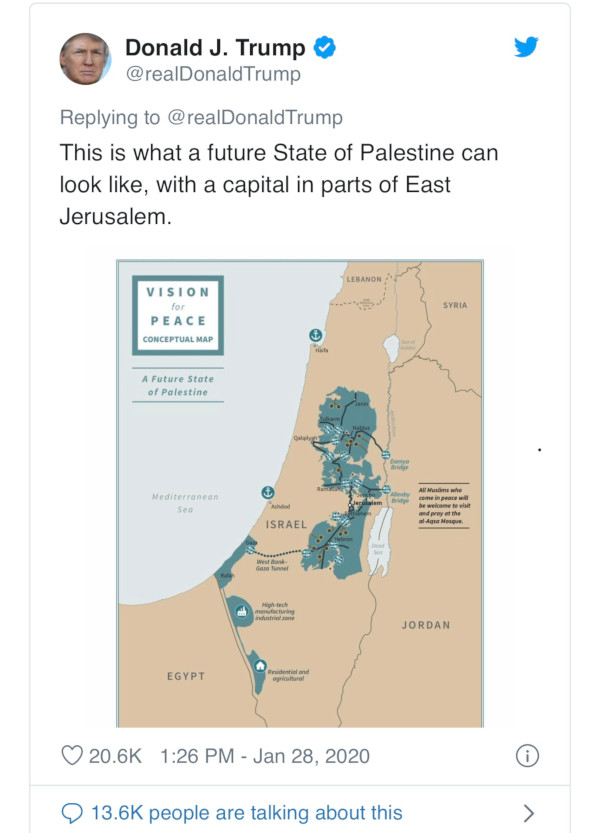 2:10 pm EST: 7.7 quake (initially 7.3, upped by USGS to 7.7.  Number 7 is God's number of perfection).
Magnitude 7.7 earthquake strikes off the coast of Jamaica and is felt as far away as Miami - https://www.cnn.com/2020/01/28/americas/earthquake-caribbean-sea/index.html
Shaken Caribbean tiptoes back to normal after shock of major quake - http://news.trust.org/item/20200129192332-4dqub
Netanyahu three indictment filing with court gets trial moving - Jerusalem Post
US Amb. Friedman: Before annexing settlements, committee approval needed - Jerusalem Post
Kushner: US won't support West Bank annexation decision before March 2 election - Times of Israel
CDC confirms first human-to-human transmission of coronavirus in US - CNBC
Dow drops more than 500 points, wipes out January gain as coronavirus keeps investors on edge - CNBC
Note: The China coronavirus has similar parallels to the 1998 worldwide financial contagion that began when the UN called on Israel to stop the Har Homa development in East Jerusalem.
Trump's Mar-a-Lago security breach: Officials fire shots at SUV that ran checkpoints, two in custody - CNBC
———
Additional details:
The property quake was at 2:10 p.m.: 44 minutes after POTUS tweeted to his 71.8 million Twitter followers, 90 minutes after plan intro.
Mid-rise and high-rise Miami financial district offices were evacuated right after quake felt.
Ambassador Friedman has a home in the Miami area. Kushner may, too, but it hasn't been confirmed. 
The political quake was McConnell not having the votes that night to stop impeachment witnesses.