Top News

Photo combination: Prime Minister Yair Lapid leads his first weekly cabinet meeting, July 3, 2022 (left); Palestinian Authority President Mahmoud Abbas talks to the media during a press conference in Nicosia, Cyprus, Tuesday, June 14, 2022 (Haim Zach/GPO; Iakovos Hatzistavrou, Pool via AP)

Former Meretz chairwoman Zehava Galon, who is running to lead the party again, claimed in an interview on Thursday that Prime Minister Yair Lapid wants to forge a peace deal with the Palestinians, days after PA President Mahmoud Abbas made a widely condemned accusation that Israel had committed "50 holocausts" over the years.

Speaking to the Walla news site, Galon said Lapid had told her he "intends to reach a political settlement with the Palestinians via [talks with] Abbas." The prime minister did not immediately respond to the claim.

Galon also commended Defense Minister Benny Gantz for meetings he held with the PA chief over the past year, a day after both coalition and opposition right-wing lawmakers renewed their criticism of Gantz's efforts to boost ties with Abbas.

Members of China's team operate with their Type 96A tank during the Tank Biathlon competition at the International Army Games 2022 in Alabino, outside Moscow, Russia August 16, 2022. REUTERS/Maxim Shemetov

BEIJING, Aug 17 (Reuters) - Chinese troops will travel to Russia to take part in joint military exercises led by the host and including India, Belarus, Mongolia, Tajikistan and other countries, China's defence ministry said on Wednesday.

China's participation in the joint exercises was "unrelated to the current international and regional situation", the ministry said in a statement.

Last month, Moscow announced plans to hold "Vostok" (East) exercises from Aug. 30 to Sept. 5, even as it wages a costly war in Ukraine. It said at the time that some foreign forces would participate, without naming them. 

President Isaac Herzog (left) and Turkish President Recep Tayyip Erdogan at the presidential complex in Ankara, on March 9, 2022. (Haim Zach/GPO)

Israel and Turkey announced a full renewal of diplomatic ties on Wednesday, following a recent phone conversation between Prime Minister Yair Lapid and Turkish President Recep Tayyip Erdogan.

Lapid hailed the development in a statement released by the Prime Minister's Office as "an important asset for regional stability and very important economic news for the citizens of Israel," adding, "We will continue to strengthen Israel's standing in the world."

As part of the upgrade in ties, both countries are slated to soon exchange ambassadors and consuls general, though no timeline was provided.

European Union foreign policy chief Josep Borrell speaks with the media as he arrives for a meeting of EU foreign ministers in Brussels on Monday, July 18, 2022. (AP/Virginia Mayo)

TEHRAN — The European Union said Tuesday it was studying Iran's response to a "final" draft agreement on reviving a 2015 nuclear accord with major powers it presented at talks in Vienna.

The United States had already said Monday that it was informing EU foreign policy chief Josep Borrell of its response to the text he submitted on August 8.

The possibility of a deal that might lead to the lifting of US sanctions on Iran's oil output of 2.5 million barrels per day has already helped trigger a fall in prices on world markets, with US oil futures dropping nearly three percent to finish below $90 a barrel.

Fox News Photo

EXCLUSIVE: Former President Trump said he "will do whatever" he can "to help the country" after the FBI's raid of his Mar-a-Lago home last week, telling Fox News Digital that the "temperature has to be brought down" while stressing that the American people are "not going to stand for another scam."

In an exclusive interview with Fox News Digital on Monday morning, his first since the raid, Trump said he had his representatives reach out to the Justice Department to offer to help amid outrage over the FBI's unprecedented raid on his private residence last week, in which agents seized classified records, including some marked as top secret. Trump is disputing the classification of those records, saying the records have been declassified.

"The country is in a very dangerous position. There is tremendous anger, like I've never seen before, over all of the scams, and this new one — years of scams and witch hunts, and now this," Trump said.

FILE PHOTO: U.S. service members assist with security at an Evacuation Control Check Point (ECC) during an evacuation at Hamid Karzai International Airport, Kabul, Afghanistan, August 26, 2021. U.S. Marine Corps/Staff Sgt. Victor Mancilla/Handout via REUTERS.

Elite Afghan soldiers trained by the United States fled to Iran with weapons and specialized combat training following the Biden administration's bungled withdrawal from the country that let the Taliban regain power, according to a report by Republicans on the House Foreign Affairs Committee based on interviews with whistleblowers and internal State Department documents.

"A 'significant' number of Afghan special forces and about 3,000 Afghan security forces, including high ranking officers, crossed the border into Iran," according to the report, which was released on Monday to coincide with the one-year anniversary of the deadly U.S. military withdrawal from Afghanistan. "Some brought military equipment and vehicles with them. We believe this happened because they were not evacuated by the U.S. or our allies, and therefore had no other option."

Ebrahim Raisi - Getty Images

(August 15, 2022 / JNS) Under pressure to deny an entry visa to Iran's president, the U.S. State Department says it must uphold its commitments to the United Nations under its arrangement as the host country.

Seven Republican senators sent a letter on Aug. 2 to U.S. President Joe Biden urging him to deny visas for Iranian President Ebrahim Raisi and his delegation to attend the U.N. General Assembly in September. Raisi is scheduled to speak at the event.

Iranian Foreign Minister Hossein Amir-Abdollahian listens to a question during a joint press briefing with his Russian counterpart Sergey Lavrov in Tehran, Iran, June 23, 2022 (AP Photo/Vahid Salemi, File)

Iran's foreign minister said Monday that Tehran wuld deliver its "final" proposal later in the day on talks to revive its 2015 nuclear accord with world powers, after Washington accepted key demands.

"The American side has verbally accepted the two demands" from Iran, said Hossein Amir-Abdollahian, as quoted by state news agency IRNA, without specifying what the demands were.

"We will send our final proposals in writing by midnight," he added. "If our opinion is accepted, we are ready to conclude and announce the accord at a meeting of foreign ministers."

An Iranian missile is displayed during a rally marking the annual Quds Day, or Jerusalem Day, on the last Friday of the holy month of Ramadan in Tehran, Iran April 29, 2022. (photo credit: MAJID ASGARIPOUR/WANA (WEST ASIA NEWS AGENCY) VIA REUTERS)

A return to the Iran deal that was negotiated in 2015 seemed impossible just a few weeks ago. 

After a year of claims that the Iranians had to come to some sort of an agreement or the window of opportunity would close, it appeared that the ayatollahs in Tehran were too far away from the West in negotiating the return to what is known as the Joint Comprehensive Plan of Action. 

However, new reports this past week claim that a final text of a deal has been hammered out. 

Former IDF chief of staff Gadi Eisenkot speaks during a conference at the Reichman University in Herzliya, May 17, 2022. (Avshalom Sassoni/Flash90)

After weeks of anticipation, former military chief Gadi Eisenkot on Sunday officially took the plunge into politics, declaring that he will run for the Knesset together with the Blue and White and New Hope parties under a unified center-right list.

Yamina MK Matan Kahana, who was religious affairs minister in the collapsed, now-outgoing government, will also run on the new slate.

Eisenkot will take the third spot in the so-called HaMahane HaMamlachti, officially translated as The National Unity Party, behind Defense Minister Benny Gantz and Justice Minister Gideon Sa'ar, who respectively head Blue and White and New Hope. Gantz and Sa'ar joined political fortunes in July and on Sunday rebranded their joint list from the unwieldy Blue and White-New Hope.

Prime Minister Benjamin Netanyahu (2nd from right) meets at his Jerusalem office with the ambassador to the US, Ron Dermer (right); White House adviser Jared Kushner (center); US Ambassador David Friedman (second left); and special envoy Jason Greenblatt, on July 31, 2019. (Kobi Gideon/GPO)

Former Israeli ambassador to the US Ron Dermer has rejected ex-White House senior adviser Jared Kushner's claim that then-prime minister Benjamin Netanyahu went off-script by announcing plans to immediately annex large parts of the West Bank during the 2020 unveiling of the Trump peace plan in a move that threatened to bury the proposal upon arrival.

Dermer this week joined Netanyahu and former US ambassador to Israel David Friedman in calling into question Kushner's account in his forthcoming book, which says Friedman told the former premier that he would have US support for the controversial move, without clearing it with anyone else in the administration.

Like Netanyahu did last week when he called Kushner's claim "baseless," Dermer pointed to an exchange of letters between former US president Donald Trump and Netanyahu and insisted that they included a US commitment to back Israeli plans to annex 30% of the West Bank in exchange for the Israeli leader agreeing to support the Trump peace plan.

Gen. Jack Keane discusses U.S.-Iran relations after assassination plot against U.S. officials comes to light. (Fox News)

Fox News senior strategic analyst Gen. Jack Keane (ret.) joined "Varney & Co." Friday to discuss the seriousness of the Iran assassination plot as the U.S. continues nuclear deal negotiations, arguing there are "scores of former U.S. government officials" on the list. 

GEN. JACK KEANE: It's very serious. I mean, and obviously, this is in response to killing Qassem Soleimani back in January of 2020, who had as much American blood on his hands as the 9/11 bombers did in New York City and the Pentagon. Listen, there are scores of former U.S. government officials that are on this list, somewhere over 50. So they're dead serious about this.  

And I don't believe it's just one target. I think they're trying to do multiple targets. And obviously, we have an Iranian agent operating on American soil attempting to kill Americans on American soil. That's pretty serious, about as serious as it can get. And I agree with Ambassador Bolton why we would continue to negotiate with the Iranians while they're trying to kill former government officials in America is preposterous on the surface of it. 

Iran's chief nuclear negotiator Ali Bagheri Kani waves as he leaves after talks at the Coburg Palais, the venue of the Joint Comprehensive Plan of Action (JCPOA) in Vienna on August 4, 2022. (Alex HALADA / AFP)

TEHRAN, Iran — Iran may accept the final compromise worked out in Vienna to save the 2015 nuclear agreement, its official news agency IRNA said on Friday.

The deal meant to curb Iran's nuclear program has been moribund since the withdrawal of the United States under president Donald Trump in 2018.

The major powers are awaiting Tehran's response to a proposal submitted on July 26 by EU foreign policy chief Josep Borrell.

Fox News Photo

After a federal judge gave the Justice Department a deadline to determine whether former President Trump supports or opposes unsealing the search warrant and property receipt used by the FBI to search his Mar-a-Lago home Monday, the former president said he heartily supports the move.

"Release the documents now!" Trump wrote on TRUTH Social at 11:40 p.m. ET Thursday, just hours after the judge's decision was announced.

In a pair of posts, Trump called the raid on his Florida estate "unAmerican, unwarranted, and unnecessary" and said he approved of the "immediate release" of the warrant

Attorney General Merrick Garland steps away from the podium after speaking at a news conference at the Justice Department in Washington, Monday, Nov. 8, 2021. (AP Photo/Andrew Harnik) (AP Photo/Andrew Harnik)

Attorney General Merrick Garland said he "personally approved" the decision to seek a search warrant for former President Trump's private residence at Mar-a-Lago, saying the Justice Department has filed a motion to unseal the search warrant and property receipt from the FBI's raid, amid "substantial public interest" in the matter, while defending the "integrity" of law enforcement officials. 

In a rare public statement, days after the FBI's early morning raid on Trump's private residence in Palm Beach, Florida. 

The raid was related to the National Archives and Records Administration (NARA) effort to collect records and materials the former president took with him from Washington, D.C., to Mar-a-Lago--a matter the agency referred to the Justice Department. 

 

Members of the Palestinian Islamic Jihad terror group during a mourning gathering for Palestinians who were killed during the latest round of fighting in the Gaza Strip, in the city of Rafah, August 8, 2022. (SAID KHATIB / AFP)

Defense Minister Benny Gantz on Thursday accused Iran of funding Palestinian Islamic Jihad to the tune of tens of millions of dollars a year, a week after Israel fought a three-day battle with the terror group in the Gaza Strip.

PIJ launched 1,175 rockets and mortars at Israel between Friday and Sunday. According to the Israel Defense Forces, some 200 rockets of them fell short inside the Gaza Strip. In several cases, failed rocket launches killed Palestinian civilians.

"While the world watched 'another escalation between Israel and Gaza,' I stopped to emphasize: The Iranian ayatollahs are involved on this front. Islamic Jihad in Gaza is a violent Iranian proxy," Gantz said, as he hosted his Cypriot counterpart at the IDF's headquarters in Tel Aviv.
---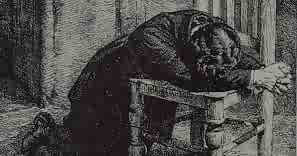 "The men who have done the most for God in this world have been early on their knees. He who fritters away the early morning, its opportunity and freshness, in other pursuits than seeking God will make poor headway seeking Him the rest of the day. If God is not first in our thoughts and efforts in the morning, He will be in the last place the remainder of the day." 
― E.M. Bounds