Top News

At the EU, Strasbourg France - November 13, 2018 - AP Photo

Strasbourg, France (dpa) - German Chancellor Angela Merkel called Tuesday for the eventual creation of a European army during a keynote address to the European Parliament, echoing a similar suggestion by French President Emmanuel Macron. 

"We should work on the vision of creating a real European army one day," Merkel said in a speech on the future of Europe to EU lawmakers in the French city of Strasbourg. 

"A common European army would show the world that there will never again be war between European countries," she added. Her comments came two days after world leaders gathered in Paris for the centenary of the end of World War I.

A ball of fire above the building housing the Hamas-run television station al-Aqsa TV in the Gaza Strip during an Israeli air strike, November 12, 2018. (MAHMUD HAMS/AFP)

Palestinian terrorist groups in the Gaza Strip announced that Egypt brokered a ceasefire agreement between them and Israel on Tuesday evening, after over 460 rockets and mortar shells were fired at southern Israel over the course of 25 hours.

A senior Israeli diplomatic official appeared to confirm the reported armistice. First reports said the decision to accept a ceasefire agreement with Hamas, Palestinian Islamic Jihad, and other terror groups in Gaza was taken by Prime Minister Benjamin Netanyahu at Tuesday's seven-hour meeting of the security cabinet without being put to a vote. Four ministers quickly said they opposed it.

"Israel maintains its right to act. Requests from Hamas for a ceasefire came through four different mediators. Israel responded that the events on the ground will decide [if a ceasefire will go into effect]," the Israeli official said, on condition of anonymity.

A convoy of Israeli tanks on the highway near the southern Israeli town of Sderot, on November 12, 2018. (Menahem KAHANA / AFP)

The Israeli military deployed additional troops and tanks to the Gaza Strip border on Monday following the largest barrage of rockets and mortar shells fired at Israel from the coastal enclave in a single day.

The army was reportedly given a green light from policymakers to pummel terror groups in the Strip if they continued with the barrages, as the terror organizations in the Strip vowed to do.

"The resistance factions' joint command center is holding a serious conversation about expanding its range of fire. Ashkelon is just the beginning. Approximately one million Zionists will be within the range of our missiles if the Zionist enemy's decision is to continue its aggression," said Abu Obeida, a spokesperson for Hamas's military wing.

The man, in his 40s, was found dead under debris as rescuers searched through the apartment building that had been hit by a missile fired from Gaza shortly after midnight, according to reports.

A man was killed and two women were seriously injured after a rocket fired from the Gaza Strip scored a direct hit on an apartment building in Ashkelon.

The fatality was the first in Israel after a day that saw more than 300 missiles and mortar rounds fired at Israeli communities near the Gaza Strip in a series of massive barrages that stretched past midnight Monday and into Tuesday morning. The missile attacks appeared to taper off after 1 a.m.

The man, in his 40s, was found dead under debris as rescuers searched through the apartment building that had been hit by a missile fired from Gaza shortly after midnight, according to reports.

U.S. Envoy for Middle East negotiations Jason Greenblatt on a visit in Israel. (photo credit: AMIR COHEN/REUTERS)

WASHINGTON -- Hamas is "forcing" Israel into military action in Gaza with its rocket and mortar firings, US President Donald Trump's senior adviser, Jason Greenblatt, warned on Monday.

Writing on Twitter, Greenblatt, who is leading an effort to jumpstart peace talks between Israelis and Palestinians, said that the world "has grown tired of Hamas' violence and the violence of other bad actors in Gaza."

Over 200 rockets have been fired from the coastal strip into Israeli territory over the last 24 hours, and Israeli leaders are already vowing a strong response.

"Terrorists in Gaza are again attacking Israel with tools of war," Greenblatt said. "These rocket & mortar attacks on Israeli towns must be condemned by all. Israel is forced once again into military action to defend its citizens. We stand with Israel as it defends itself against these attacks."

Iraeli security forces and firefighters gather near a building set ablaze after it was hit by a rocket fired from the Palestinian enclave, in the southern town of Sderot on November 12, 2018. (Photo by Jack GUEZ / AFP)

Fresh fighting erupted on the Gaza border Monday afternoon, with dozens of projectiles fired by terrorists in the Strip striking southern Israel, as well as anti-tank missile attack on an Israeli bus near the border that seriously injured a soldier, officials said.

According to the Israel Defense Forces, more than 200 projectiles were fired at Israel, triggering sirens in Israeli communities close to the Gaza Strip, in the city of Beersheba and even as far away as the Dead Sea and the West Bank's Hebron Hills.

Some 60 incoming rockets and mortar shells from Gaza were intercepted by the Iron Dome air defense system, the military said, while several others struck homes and buildings in Israeli communities near the border, causing light injuries and severe damage. The IDF said that the majority of the projectiles that were not intercepted fell in open areas, causing neither casualties nor damage.

North Korea is conning the United States, building up secret, smaller missile bases even after publicly touting the dismantling of its main launch site, according to a new review of satellite images by a top think tank.

Citing new satellite pictures, the Center for Strategic and International Studies' Beyond Parallel program identified what appears to be missile operating bases that have never been acknowledged by North Korean officials. CSIS' conclusions were not immediately independently confirmed.

The report identified about 15 to 20 bases being operated by the Korean People's Army's Strategic Force, based on information from officials in the government, defense and intelligence, as well as North Korean defectors.

 

Defense Minister Avigdor Liberman meets with IDF chief Gadi Eisenkot, the head of the Shin Bet security service and other senior defense officials in the army's Tel Aviv headquarters on November 11, 2018. (Ariel Hermoni/Defense Ministry)

As Prime Minister Benjamin Netanyahu cut short a trip to Paris late Sunday and headed home following an outbreak of fighting in Gaza during a raid by Israeli special forces, the possibility, but not the certainty, of another Israel-Hamas war loomed.

Hamas claimed that the late Sunday fighting was sparked by an assassination raid by Israeli special forces, in which Nour Baraka, the commander of Hamas's tunneling forces in the Khan Younis area, was killed. Six other Hamas terrorists were also reported dead.

Of the seven, three were killed on the ground, and three in Israeli strikes. One of the wounded later died.

At a rain-soaked and chilly observance of Armistice Day at the Suresnes American Cemetery outside Paris on Sunday, President Trump praised the "American and French patriots" of World War I, in a speech that sharply contrasted with the overtly political tone of an earlier address by French President Emmanuel Macron.

Joined by senior military officials, members of Congress, and dozens of other world leaders, Trump began by introducing several veterans and noting that it was Veterans Day in America.

"Exactly 100 years ago today, on November 11, 1918, World War I came to an end," Trump said. "Thank God."

Russian President Vladimir Putin meets with Prime Minister Benjamin Netanyahu in Paris on November 11, 2011 (courtesy)

Prime Minister Benjamin Netanyahu on Sunday had a "short talk" with Russian President Vladimir Putin in Paris as world leaders gathered for commemorations marking 100 years since the end of World War I.

Kremlin spokesman Dmitry Sergeyevich Peskov said Netanyahu and Putin had a "short talk," without elaborating on the contents of the discussion, according to the Kremlin.

At a later press conference, Netanyahu confirmed he spoke with Putin. He said the talks were "good and substantive and even very important."

The wildfire that devastated the northern California city of Paradise this week already the most destructive in state history in terms of structures burned, and the toll is likely to get even worse.  

More than 6,700 structures burned to the ground in northern California's Camp Fire on Thursday and Friday, eclipsing the previous tally from last October's Tubbs Fire in the wine counties of Napa and Sonoma, according to the California Department of Forestry and Fire Protection. Authorities have not yet given a tally of structures destroyed by the Hill and Woolsey fires now burning in Ventura and Los Angeles, in Southern California.

Synagogue in Hanover, Germany, set ablaze during the Kristallnacht pogrom of November 9-10, 1938 (public domain)

When American Jews learned of Nazi Germany's Kristallnacht pogrom 80 years ago, the community's leaders were determined to keep a lid on people's emotions.

During the night of November 9-10, Nazi-led "demonstrators" murdered 100 German Jews in a nationwide orgy of violence. Thirty thousand Jews were rounded up for concentration camps, and more than 200 synagogues became smoldering ruins. Although the pogrom was described as Germany's most bloody assault on Jews since the Middle Ages, few Jewish leaders in the US were prepared to agitate.

Most notably, the influential General Jewish Council insisted on maintaining radio silence following Kristallnacht. Comprised of leaders from the so-called "defense" organizations, the council issued these instructions in the pogrom's aftermath:

"There should be no parades, public demonstrations, or protests by Jews," according to the directives. The council also reminded American Jews that it was in their interest not to advocate for admitting more Jewish refugees into the country.
---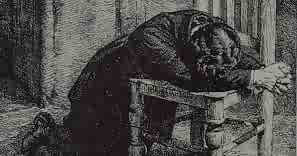 "The men who have done the most for God in this world have been early on their knees. He who fritters away the early morning, its opportunity and freshness, in other pursuits than seeking God will make poor headway seeking Him the rest of the day. If God is not first in our thoughts and efforts in the morning, He will be in the last place the remainder of the day." 
― E.M. Bounds