Top News

US Secretary of State Antony Blinken attends a press conference during an Organization for Security and Co-operation in Europe (OSCE) meeting, in Stockholm, Sweden, Thursday, Dec. 2, 2021. (photo: Jonathan Nackstrand, Pool Photo via AP)

United States Secretary of State Antony Blinken said Friday that this week's round of negotiations between world powers and Iran in Vienna was halted because Tehran does not seem to be serious about reaching an agreement with the US that would see a joint return to compliance with the nuclear agreement.

"What we've seen in the last couple of days is that Iran right now does not seem to be serious about doing what's necessary to return to compliance, which is why we ended this round of talks in Vienna," Blinken told Reuters.

The secretary of state said the US would now consult with its allies, including Israel, on how best to move forward. "And we will see if Iran has any interest in engaging seriously, but the window is very, very tight."

The site of the Atarot project, next to the security barrier and the apartments of Kafr Akab. (photo: Tovah Lazaroff, Jerusalem Post)

The United States "strongly emphasized" its objection to Israeli settlement advancement in a conversation Secretary of State Antony Blinken had with Prime Minister Naftali Bennett on Thursday.

Blinken "strongly emphasized that Israel and the Palestinian Authority should refrain from unilateral steps that exacerbate tensions and undercut efforts to advance a negotiated two-state solution, including advancing settlement activity," State Department spokesman Ned Price said in describing the conversation.

The two men discussed Iran, the Omicron variant, the Iron Dome system and the Israeli-Palestinian conflict.

A sign showing entry only for "2G," the term in Germany for people who are either vaccinated against or have recently recovered from Covid-19. Jens Schlueter | Getty Images

National and regional leaders agreed on Thursday to ban Germany's unvaccinated population from all non-essential businesses, such as bars, restaurants and movie theaters in a bid to encourage vaccine uptake. 
 
Data from the European Centre for Disease Prevention and Control shows that 68.4% of the German population is fully vaccinated, slightly above the EU-wide vaccination rate of 66%.
 
Ralf Reintjes, a professor of epidemiology at Hamburg University of Applied Sciences, cast some doubt over whether Germany's new measures were stringent enough to slow down the transmission of the virus.

 

DW Photo

Those who have yet to be vaccinated are to face additional restrictions after German leaders held talks on Thursday.

Acting German Chancellor Angela Merkel and Chancellor-designate Olaf Scholzspoke with state leaders and agreed on new measures to curb a dramatic spike in coronavirus cases.

Unvaccinated people are to be barred from accessing almost all businesses, except for grocery stores and pharmacies, as Merkel joined Scholz in backing mandatory vaccines.

What are the new restrictions?

Federal and state leaders agreed to the following measures:

Contact restrictions for unvaccinated individuals
Entrance to shops, restaurants, museums and movie theaters will be possible for vaccinated or recovered people only
Additional tests for those who are vaccinated

 

Germany and Israel are moving closer to making Covid-19 vaccine shots compulsory, Greece is introducing fines and Spain is banning some unvaccinated travelers. Despite protests, making life harder for those who don't want a shot is a tactic increasingly favored by governments, spooked by the spread of the omicron variant. 

Here are some of the measures against the unvaccinated deployed by governments around the world. 

FILE - Health care workers, dressed in full protective gear, take part in a ceremony kicking off a door-to-door COVID-19 vaccination campaign, in El Alto, Bolivia, Sept. 16, 2021.

WASHINGTON — Amid growing concerns over the new omicron COVID-19 variant, the Biden administration is supporting efforts by the World Health Organization to establish a new international agreement on future pandemic preparedness and response. 

"The United States is committed to working with member states to take forward the recent recommendations of the working group on preparedness and response. That includes developing a new WHO convention agreement or other international instrument and making agreements to improve the effectiveness and agility of international health regulations," White House press secretary Jen Psaki said Tuesday to VOA aboard Air Force One. 

The U.S. had initially opposed the inclusion of language that would have made the so-called pandemic treaty — proposed by about two dozen world leaders in March — legally binding. But on Sunday, the administration supported a draft resolution that is being negotiated at a three-day virtual special session of the WHO governing body, the World Health Assembly, beginning Monday.

© Photo : Russian Defence Ministry

Earlier in November, Russian President Vladimir Putin said that tests of the Zircon hypersonic missiles are almost completed.

Vladimir Putin said that the hypersonic weapon with maximum speed of Mach 9 will appear in Russia in the near future.

"We have now tested, and successfully, and from the beginning of the year we will be armed with new sea-based hypersonic missiles, Mach 9 [speed]," Putin said.

Prime Minister Naftali Bennett holds a video conference with Austrian Chancellor Alexander Schallenberg and Czech Prime Minister Andrej Babic about the COVID-19 pandemic, November 30, 2021. (Amos Ben Gershom/GPO)

Prime Minister Naftali Bennett spoke Tuesday with his Austrian and Czech counterparts about the COVID-19 pandemic, defending the use of phone tracking and other measures that Israel has recently imposed to counter the new Omicron coronavirus variant.

According to the Prime Minister's Office, the leaders swapped insights from their nations' respective experiences battling the virus and on "the challenges of managing a country" amid a pandemic.

Bennett's video call with Austrian Chancellor Alexander Schallenberg and Czech Prime Minister Andrej Babic came as the two Central European countries face surging infections, and as Israel takes steps to prevent the potential spread of Omicron.

A healthcare worker holds a vial of the Pfizer Covid-19 vaccine at Jackson Memorial Hospital in Miami, Oct. 5, 2021. (AP Photo/Lynne Sladky, File)

WASHINGTON (CN) — Justice Stephen Breyer on Monday afternoon refused to grant relief to workers at a Boston-based hospital in the latest challenge to Covid-19 vaccine mandates to come across the high court's shadow docket. 

Without referring the case to his colleagues on the court, Breyer denied the request for an emergency injunction with no explanation for his ruling or call for a response from the hospital. 

Mass General Brigham started enforcing its Covid-19 vaccine mandate on Nov. 5 and has since terminated employees that refused to comply. Both a district court and the First Circuit have denied requests for a preliminary injunction in the case. The hospital workers sought an injunction from the Supreme Court while their appeal is pending at the Boston-based First Circuit. 

Sen. Tom Cotton, R-Ark., accused Dr. Fauci of lying to Congress over funding of "gain-of-function" research in China during his testimony on Capitol Hill, calling for an investigation into the matter. Sen. Cotton joined "Fox & Friends" to discuss Fauci and President Biden's new travel ban in response to the COVID omicron variant. 

TOM COTTON: Tony Fauci lied to Congress and he should be investigated. He repeatedly said that his agency did not fund dangerous and risky gain of function research in those Wuhan labs, which almost certainly was the origin of this virus. He said it repeatedly to Congress. His agency just admitted a few weeks ago that yes, they did in fact, fund gain of function research. So there's a lie there. It's either Tony Fauci lying to Congress or his agency after months of stonewalling, writing a letter to Congress and admitting it. I suspect it's Tony Fauci lying on the spot in his testimony to Congress. He put the American people at risk by funding this dangerous research, which was happening under the Obama administration, which he thought he knew better than the people's elected representatives. It's just another example of how these bureaucrats think that they are the science, that they represent the epitome of knowledge and those grubby politicians, like the president of the United States and United States senators and representatives, have no business telling them what to do. That's not the way our democracy functions.

Fox Photo

Dr. Anthony Fauci escalated his spat with some lawmakers over the nation's COVID-19response by claiming they oppose "science." 

Fauci has served as the face of the government's pandemic response, putting him at odds with lawmakers who remain critical of that response. Sen. Rand Paul, R-Ky., has frequently sparred with Fauci over various statements and policies the president's chief medical adviser has made or endorsed. 

Senator Rand Paul: The absolute hubris of someone claiming THEY represent science. It's astounding and alarming that a public health bureaucrat would even think to claim such a thing, especially one who has worked so hard to ignore the science of natural immunity. 

 

Iranian Brig.-Gen. Abolfazl Shekarchi. (photo: Wikimedia Commons)

The spokesman for the Islamic Republic of Iran's armed forces, Brig.-Gen. Abolfazl Shekarchi, on Saturday urged the total elimination of the Jewish state during an interview with an Iranian regime-controlled media outlet.

"We will not back off from the annihilation of Israel, even one millimeter. We want to destroy Zionism in the world," Shekarchi told the Iranian Students News Agency.

Shekarchi's genocidal antisemitic remarks come just days before the nuclear talks are set to restart in Vienna Monday on curbing the Islamic Republic of Iran's illicit nuclear program.

Israeli Foreign Minister Yair Lapid meets with 26 EU foreign ministers in Brussels, July 12, 2021. (photo: European Union)

A day before talks on Iran's nuclear program restart in Vienna, Foreign Minister Yair Lapid arrived in London on Sunday for a two-day trip to the UK and France.

One of Lapid's primary goals in his meetings with British Prime Minister Boris Johnson and French President Emmanuel Macron is to ensure that banking sanctions against Iran remain in place, Channel 13 reported.

However, Iran is coming to Vienna determined to have those very sanctions removed. Iran's negotiating team includes the deputy governor of Iran's Central Bank, and senior officials from the trade and economy ministries.
---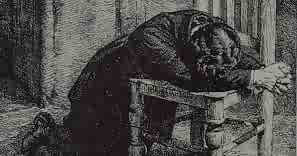 "The men who have done the most for God in this world have been early on their knees. He who fritters away the early morning, its opportunity and freshness, in other pursuits than seeking God will make poor headway seeking Him the rest of the day. If God is not first in our thoughts and efforts in the morning, He will be in the last place the remainder of the day." 
― E.M. Bounds