Top News

US Ambassador Tom Nides is interviewed by The Times of Israel at the US embassy in Jerusalem, on January 7, 2022. (photo: David Azagury, US Embassy)

US Ambassador to Israel Tom Nides has moved into a new home in Jerusalem and his embassy has filed a request to the Foreign Ministry to recognize the building as the envoy's official residence, a US official confirmed to The Times of Israel on Sunday.

The building is located on Emek Refaim Street, in Jerusalem's upscale German Colony neighborhood.

The old US ambassador's residence was a seaside compound in the Tel Aviv suburb of Herzliya, but it was sold by the Trump administration ... in 2020 after the former president moved the US embassy from Tel Aviv to Jerusalem in 2018.

Meretz MK Ghaida Rinawie Zoabi seen after a meeting with Foreign Minister Yair Lapid outside the Foreign Ministry offices in Jerusalem, May 22, 2022. (photo: Yonatan Sindel, Flash90)

Meretz MK Ghaida Rinawie Zoabi announced on Sunday her decision to once again vote with the government, days after she declared that she was leaving the coalition.

Zoabi's announcement last week that she would depart the government put the coalition in the minority; with her return, the opposition/coalition breakdown returned to 60 MKs each, seemingly removing the immediate threat of the Knesset disbanding and early elections being called.

Zoabi's decision came following a meeting in Jerusalem with Foreign Minister Yair Lapid and several cabinet ministers and mayors to address her terms for returning to the government.

A destroyed tank is seen near the village of Biskvitne near Kharkiv on May 19, 2022, amid Russia's military invasion launched on Ukraine. (photo: Sergey Bobok, AFP)

Ukraine's President Volodymyr Zelensky warned Saturday that only a diplomatic breakthrough rather than an outright military victory could end Russia's war on his country, as Moscow cut gas supplies to Finland.

"There are things that can only be reached at the negotiating table," Zelensky said, just as Russia claimed its long-range missiles had destroyed a shipment of Western arms destined for Ukraine's troops.

After just over 12 weeks of fierce fighting, Ukrainian forces have halted Russian attempts to seize Kyiv and the northern city of Kharkiv, but are under renewed and intense pressure in the eastern Donbas region.

Former President Donald Trump speaks during the American Freedom Tour at the Austin Convention Center on May 14, 2022 in Austin, Texas. (photo: Brandon Bell, Getty Images)

Former President Donald Trump reacted to the bombshell testimony out of the trial of Michael Sussmann that Hillary Clinton herself approved the dissemination of false information alleging a covert communications channel between the Trump Organization and a Russian bank to the media.

Trump told Fox News Digital that the entire Russia investigation is "one of the greatest political scandals in history," and that he will "never" get his "reputation fully back."

Former Clinton campaign manager Robby Mook on Friday testified as part of the first criminal trial out of Special Counsel John Durham's years-long investigation into the origins of the Trump-Russia probe, saying Clinton approved and "agreed" to share the discredited data with the media.

Turkey's President Tayyip Erdogan holds a news conference during the NATO summit at the Alliance's headquarters in Brussels, Belgium June 14, 2021. (file photo: Yves Herman, Reuters)

Turkish President Tayyip Erdogan, who has objected to Sweden and Finland joining NATO, held phone calls with the leaders of the two countries on Saturday and discussed his concerns about terrorist organizations.

Turkey says Sweden and Finland harbor people linked to the Kurdistan Workers Party (PKK) militant group and followers of Fethullah Gulen, whom Ankara accuses of orchestrating a 2016 coup attempt.

Erdogan told Sweden's Prime Minister Magdalena Andersson that Ankara expected concrete steps to address its concerns, the Turkish presidency said.

In another call, Erdogan told Finnish President Sauli Niinisto that failing to deal with terrorist organizations that posed a threat to a NATO ally would not suit the spirit of alliance, Ankara said.

Klaus Schwab, Chairman of the World Economic Forum. (photo: Ye Aung Thu/AFP/Getty Images)

Leaders from around the globe to meet in Davos, Switzerland for the World Economic Forum's Annual Meeting 2022.

The meeting is centered around the theme History at a Turning Point: Government Policies and Business Strategies.

Nearly 2,500 leaders from politics, business, civil society and media to participate in the unique spring 2022 Annual Meeting.

More than 50 heads of state and government are expected to join, among the 300 governmental representatives, to share their vision for the world. Over 1,250 leaders from the private sector will be participating.

Civil society will be represented by more than 200 leaders from NGOs, social entrepreneurs, academia, labour organizations, faith-based and religious groups, and over 400 media leaders and reporting press.

(photo: J Scott Applewhite, AP)

San Francisco Archbishop Salvatore Cordileone announced Friday that House Speaker Nancy Pelosi is barred from receiving Holy Communion due to her pro-abortion stance -- marking an escalation in a decades-long tension between the Roman Catholic Church and liberal Democratic politicians on abortion.

Cordileone has written to the California Democrat, informing her that she should not present herself for Holy Communion at Mass, and that priests will not distribute communion to her if she does present herself.

"A Catholic legislator who supports procured abortion, after knowing the teaching of the Church, commits a manifestly grave sin which is a cause of most serious scandal to others.  Therefore, universal Church law provides that such persons 'are not to be admitted to Holy Communion,'" he says in the letter.

Turkish President Recep Tayyip Erdogan arrives for a welcoming ceremony for his Algerian counterpart, Abdelmadjid Tebboune, in Ankara, Turkey, Monday, May 16, 2022. (photo: Burhan Ozbilici, AP)

Turkish President Tayyip Erdogan on Friday told reporters he is engaging in "telephone diplomacy" with foreign leaders as nations look to circumvent Turkey's blockade on Finland and Sweden's NATO membership bid. 

Erdogan repeatedly said this week that he would not allow the two European nations to join the military alliance over anger at their ties to individuals Turkey has deemed "terrorists."

But despite his pronouncement this week that Sweden and Finland "shouldn't bother" attempting to persuade him otherwise, he is reportedly set to hold calls Saturday with British and Finnish leaders.

(L) Foreign Minister Yair Lapid and (R) Meretz MK Ghaida Rinawie Zoabi. (photo: Danny Shem Tov, Knesset Spokesperson)

In his first comments since the resignation of Meretz MK Ghaida Rinawie Zoabi from the coalition, Foreign Minister Yair Lapid on Friday insisted it was too early to eulogize the government.

"We have been eulogized five times already with special news broadcasts — and we came back," Lapid wrote on Facebook. "Now those same people are telling you that it's all over — it's not over, we are still here."

According to the Ynet news site, the coalition is now under the impression that Ghaida Rinawie will not vote in favor of bringing down the government.

Joint List MKד Sami Abou Shahadeh and Ahmad Tibi seen during a plenum session at the Knesset on February 23, 2022. (photo: Yonatan Sindel, Flash90)

Joint List MK Sami Abou Shahadeh announced on Friday that he would submit legislation to dissolve the Knesset next week following the resignation of a renegade Meretz lawmaker from the coalition, forcing the ruling bloc to circle the wagons if it wants to prevent a fifth election in less than three years.

And while Abou Shahadeh has made clear that he will join the rest of the opposition — which is made up of right-wing and religious parties — in backing the bill that would initiate snap elections, there has been some speculation that other members of the Joint List might be willing to throw the coalition a lifeboat.

Israeli Defense Minister Benny Gantz (left) meets with U.S. National Security Advisor Jake Sullivan in the White House on May 19, 2022. Credit: Shmulik Almany.

(May 19, 2022 / JNS) Israeli Defense Minister Benny Gantz commenced his official visit to the United States on Wednesday, meeting with U.S. National Security Advisor Jake Sullivan in the White House. The two discussed various security threats, foremost Iran, as well as regional opportunities, according to a statement from Gantz's office.

Iran was a central discussion topic, with Gantz sharing assessments of Iran's nuclear program progress, as well as its regional destabilizing activities. 

During the talks, Gantz "emphasized the need to work closely and prepare for any future scenario. This would be conducted within the framework of Israel's excellent defense cooperation with the U.S. and growing ties with regional partners," according to the statement.

Fingerprinting. Credit: Pixabay.

(May 19, 2022 / JNS) The Israel Security Agency (Shin Bet) intelligence agency announced on Thursday the uncovering of an Iranian plot to lure Israeli academics and businesspeople abroad for kidnapping and attack purposes.

Using a host of deceptive online tactics, Iranian intelligence elements also targeted former members of the Israeli defense establishment, turning to them as they pretended to be academics, journalists, businesspeople and philanthropists, according to the Shin Bet.

The Iranians used the authentic identities of foreign individuals who were not aware of what was being done using their identities.

Meretz MK Ghaida Rinawie Zoabi attends a Special Committee on Arab Society Affairs meeting, in the Knesset, in Jerusalem on June 21, 2021. (Yonatan Sindel/Flash90)

MK Ghaida Rinawie Zoabi of the left-wing Meretz party resigned from the coalition on Thursday afternoon, reducing it to a minority in the Knesset and bringing it to the brink of collapse.

The Likud-led opposition, which last week abandoned plans to advance a bill to dissolve the Knesset and hold new elections, was said to be weighing attempting to advance such legislation next week, depending on whether it believes it can now muster a simple majority in the 120-seat Knesset.

In a letter addressed to coalition leaders Prime Minister Naftali Bennett and Foreign Minister Yair Lapid, Rinawie Zoabi said her move was prompted by a rightward shift by the government.

Prime Minister Naftali Bennett (left) and US President Joe Biden. (composite image: AP, Flash90)

American officials have strongly protested Israel's new planned policy on foreigners' entry into the West Bank, Channel 12 news reported Wednesday.

The network said sources within the administration had suggested that a failure to reevaluate the wide-reaching restrictions could lead to the postponement or even suspension of the process to add the Jewish state to the US Visa Waiver Program (VWP).

According to Channel 12, Biden officials have expressed their disapproval of US citizens being required to go through a rigorous questioning procedure to enter the West Bank, arguing that it severely compromises their freedom of movement and occupation.

Illustrative: Israel Air Force F-16 fighter jets and a refueling plane fly in formation over Nevada during the United States Air Force's Red Flag exercise in August 2016. (IDF Spokesperson's Unit)

The United States will participate in Israel's largescale drill simulating a strike on Iran's nuclear facilities as part of the broader Chariots of Fire exercise later this month, Channel 13 reported on Tuesday evening.

According to the unsourced report, the US Air Force will serve as a complementary force, with refueling planes drilling with Israeli fighter jets as they simulate entering Iranian territory and carrying out repeated strikes.

The unprecedented Israel- US aerial collaboration in a drill simulating a strike on Iran's nuclear facilities is seen as a potential message to Iran amid long-stalled negotiations in Vienna over a return to the 2015 nuclear deal, a possibility Israel has repeatedly voiced its objection to, warning it would lead to "a more violent, more volatile Middle East."

Finland's Ambassador to NATO Klaus Korhonen, left, NATO Secretary-General Jens Stoltenberg and Sweden's Ambassador to NATO Axel Wernhoff attend a ceremony to mark Sweden's and Finland's application for membership in Brussels, Belgium, May 18, 2022. (Johanna Geron/Pool via AP)

BRUSSELS (AP) — NATO Secretary-General Jens Stoltenberg said Wednesday that the military alliance stands ready to seize a historic moment and move quickly on allowing Finland and Sweden to join its ranks, after the two countries submitted their membership requests.

The official applications, handed over by Finland and Sweden's ambassadors to NATO, set a security clock ticking. Russia, whose war on Ukraine spurred them to join the military organization, has warned that it wouldn't welcome such a move, and could respond.

"I warmly welcome the requests by Finland and Sweden to join NATO. You are our closest partners," Stoltenberg said. "All allies agree on the importance of NATO enlargement. We all agree that we must stand together, and we all agree that this is an historic moment which we must seize."

Defense Minister Benny Gantz arrives to a cabinet meeting at the Prime Minister's Office in Jerusalem on May 1, 2022. (photo: Yonatan Sindel, Flash90)

Iran's nuclear program and the war in Ukraine will be the focus of security talks with Washington this week, Defense Minister Benny Gantz said late Tuesday as he took off for a several-day trip to the US.

Gantz is set to meet with Pentagon chief Lloyd Austin and US National Security Adviser Jake Sullivan during two days in Washington, amid growing fears over advancing nuclear enrichment in Iran and a widening gulf with Russia over Syria and Ukraine.

"I will discuss bolstering joint security cooperation and dealing with regional challenges, chief among them Iran, which all moderate actors in the region must unite against," Gantz said according to his spokesperson.

Illustrative: an F-16I jet at an airbase. (Israel Defense Forces)

For the first time, the Israeli Air Force will practice for a widescale strike in Iran later this month, during the military's major Chariots of Fire exercise, The Times of Israel has learned.

In light of growing uncertainty regarding a return by Iran to the 2015 nuclear deal, amid long-stalled negotiations with the United States, the Israel Defense Forces in the past year has ramped up its efforts to prepare a credible military threat against Tehran's nuclear facilities.

The large-scale air maneuvers, including a simulated attack on Iranian nuclear targets, will take place in Cyprus during the fourth and final week of the monthlong exercise, starting May 29. The Chariots of Fire drill, which involves nearly all units of the IDF, has been focusing on training for fighting on Israel's northern borders, including against the Iran-backed Hezbollah terror group in Lebanon.

Russian S-300 air defense missile systems drive during the Victory Day military parade marking 71 years after the victory in WWII in Red Square in Moscow, Russia, on May 9, 2016. (file photo: Alexander Zemlianichenko, AP)

Russian forces opened fire on Israeli jets with advanced S-300 anti-aircraft missiles as they allegedly attacked targets in northwestern Syria last week, Channel 13 news reported Monday, in what could signal a significant shift in Moscow's attitude to Israel.

According to the unsourced report, the incident occurred on Friday as the Israeli air force bombed several targets near the city of Masyaf in northwestern Syria.

Turkey's President Tayyip Erdogan holds a news conference during the NATO summit at the Alliance's headquarters in Brussels, Belgium June 14, 2021. REUTERS/Yves Herman/Pool/File Photo

ISTANBUL, May 16 (Reuters) - Turkish President Tayyip Erdogan said on Monday that Swedish and Finnish delegations should not bother coming to Ankara to convince it to approve their NATO bid.

Sweden's government has formally decided to apply for NATO membership, Prime Minister Magdalena Andersson said on Monday, a day after Finnish President Sauli Niinisto confirmed that Helsinki will also apply for membership. read more 

Turkey surprised its NATO allies last week by saying it would not view their applications positively, mainly citing their history of hosting members of groups Ankara deems terrorists.

A view of houses in the unrecognized Bedouin village of Sawaneen in Israel's southern Negev Desert, on June 8, 2021. (Hazem Bader/AFP)

The Ra'am party said Sunday that it had reached a new agreement with the rest of the coalition regarding unrecognized communities in the southern Negev region of the country that would allow for some illegal construction to remain standing without penalty.

The announcement came after last week Ra'am ended a three-week freeze on its participation in parliament and in the coalition, jeopardizing the stability of Prime Minister Naftali Bennett's precarious government. Even with Ra'am's cooperation, the government holds just 60 seats in the Knesset, equal to the opposition's number.

Russia has threatened to deploy nuclear weapons over prospective Swedish and Finnish bids to join Nato. Picture: Alamy

The two Nordic countries look set to renounce decades of military neutrality and join the defensive alliance, which has triggered outcry from Moscow.

The addition of both nations to Nato would represent Putin's worst nightmare - an expansion of the military alliance to his borders - and it would follow a series of battlefield setbacks in Ukraine.

He has tried to justify his invasion of Ukraine and destabilisation of eastern Europe as a counter to Nato's addition of ex-Soviet states and former Warsaw Pact members, demanding the alliance effectively withdraw to its position before the mid-1990s.

After Putin said Finland was making a mistake joining the alliance, Russian TV said: "Their official reason is fear. But they'll have more fear in Nato."

Benny Gantz Yonatan Sindel/Flash90

Defense Minister Benny Gantz (Blue and White) has warned that Jewish Israel may soon be limited to the center of the country only, Israel Hayom reported.

In a closed meeting with his party last week, Gantz read aloud a WhatsApp containing threats from unnamed Arab sources, warning that they would take over Israel.

Among other things, the WhatsApp said, "Continue to curse, you have no chance against Allah. Slowly slowly we are eating away at your country. We have land in the Negev that is the size of Gush Dan (central Israel -ed.), which is filled with tin shacks with little Bedouin children. What are you going to do? This is Palestinian land, essentially, and the moment a single tractor comes - we will use the leftist organizations such as 'Peace Now' and 'B'tselem,' which will turn to the real ruler of the country (the Supreme Court) to issue a cease and desist order. We will send children and youths to throw stones and barricade themselves at the scene until you run like mice from the area."

Defense Minister Benny Gantz speaks during an event held by his Blue and White party in Tel Aviv, on March 21, 2022. (Avshalom Sassoni/Flash90)

Tension reportedly ran high during Sunday morning's weekly cabinet meeting, with Defense Minister Benny Gantz accusing Prime Minister Naftali Bennett of not appropriately crediting other ministers for the government's work.

According to leaks from the meeting, after Bennett delivered his opening statement and the cameras were turned off, Gantz turned to the prime minister and demanded public recognition for the work done by cabinet ministers, particularly himself.

"A lot of people deserve credit for the work of this government. In front of the cameras you only talked about 'me, and me and me,'" Gantz said to the prime minister, in a near-identical quote reported by several Hebrew media outlets.

US Secretary of State Antony Blinken attends the Informal Meeting of NATO Ministers of Foreign Affairs in Berlin, Germany, May 15, 2022. (Kevin Lamarque/Pool via AP)

US Secretary of State Antony Blinken spoke with the family of deceased Palestinian journalist Shireen Abu Akleh after criticizing Israel's use of force at her funeral, an official said Sunday.

Blinken, during his flight Saturday to Berlin for a meeting of NATO foreign ministers, offered "deep condolences" in a phone call with family members of Shireen Abu Akleh, a State Department official said.

The top US diplomat "noted Abu Akleh's journalistic body of work and the importance of a free and independent press," the official said.
---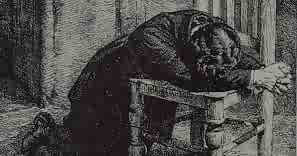 "The men who have done the most for God in this world have been early on their knees. He who fritters away the early morning, its opportunity and freshness, in other pursuits than seeking God will make poor headway seeking Him the rest of the day. If God is not first in our thoughts and efforts in the morning, He will be in the last place the remainder of the day." 
― E.M. Bounds