Top News

(Clockwise from top left) US Secretary of State Antony Blinken, Foreign Minister Yair Lapid, UAE diplomatic adviser Anwar Gargash, Bahrain's Ambassador to the US Sheikh Abdullah bin Rashid al-Khalifa and Moroccan Foreign Minister Nasser Bourita in a virtual event marking the one-year anniversary of the Abraham Accords on September 17, 2021. (screen capture: YouTube)

US Secretary of State Antony Blinken pledged on Friday that the Biden administration would actively work to support and expand the growing diplomatic ties between Israel and Arab nations.

Speaking at a Zoom event to mark the one-year anniversary of the signing of the Abraham Accords between Israel, the United Arab Emirates and Bahrain on the White House lawn, Blinken pledged that "this administration will continue to build on the successful efforts of the last administration to keep normalization marching forward."

Blinken laid out three main lines of effort to support the agreements — fostering Israel's ties with the UAE and Bahrain as well as Morocco, Sudan and Kosovo; deepening Israel's existing relationships with Egypt and Jordan; and encouraging more countries to join the Abraham Accords.

(Blinken reiterated in the Zoom call that the normalization steps work toward "advancing a negotiated peace between Israelis and Palestinians.")

US State Department spokesman Ned Price holds a press briefing on Afghanistan at the State Department in Washington, U.S., August 16, 2021. (photo: Reuters [Pool], Kevin Lamarque)

The US does not expect to see renewed talks between Israelis and Palestinians in the near future, US State Department spokesman Ned Price told reporters in Washington on Wednesday.

"I don't think you've heard us call for explicitly face-to-face negotiations at the present," Price said.

He spoke in repose to a question about Prime Minister Naftali Bennett's statements in a media interview he gave on Monday that he has no plans to speak with Palestinian Authority President Mahmoud Abbas.

Washington will not pressure Israel and the Palestinians to resume direct negotiations, or take other action to improve the conditions for regional peace talks, US State Department spokesman Ned Price said Wednesday.

In response to a question posed at a press conference, Price said, "We are seeking to see to it that Israelis and Palestinians experience equal measures of safety, of security, of prosperity, and of dignity, but we've also been very clear that the starting point that we have right now … is not one where I think we would expect to see direct negotiations between the parties lead to any sort of breakthrough in the near term."

German Police (photo: AP)

Police averted a possible Islamist attack on a synagogue in western Germany and arrested four people including a 16-year-old Syrian youth in connection with the threat, the regional interior minister said on Thursday.

Authorities had received a "a very serious and concrete tip" that an attack on the synagogue in the town of Hagen could take place during the Jewish festival of Yom Kippur, the minister, Herbert Reul, said.

Officers tightened security around the building on Wednesday evening and searched it for bombs but found nothing dangerous, Reul, interior minister for the state of North Rhine-Westphalia, told a news conference.

Police set up a temporary road block in Jerusalem on Yom Kippur eve, the Day of Atonement, and the holiest of Jewish holidays, September 15, 2021. Israel came to a standstill for 25-hours during the high holiday of Yom Kippur. (photo: Jamal Awad/Flash90)

Israel shut down on Wednesday evening for Yom Kippur, the Jewish Day of Atonement and the holiest day of the Jewish calendar, even as security forces remained on high alert amid a recent spike in attacks and with two escaped Palestinian security prisoners still on the run.

This Yom Kippur comes as the country is battling a fresh wave of coronavirus and Wednesday saw long lines and a rush to get tested before most testing stations also shut for the holy day.

All flights in and out of Ben Gurion airport ceased at 1:35 p.m. The airport will reopen Thursday night with arrivals starting at 9:30 p.m., while departures will resume at 11:30 p.m. During this period Israel's air space is also closed to flights passing through.

A European Union flag flies outside the European Commission headquarters in Brussels, Belgium, December 19, 2019. (photo credit: REUTERS/YVES HERMAN)

Travelers will have an easier time entering and leaving the country now that Israel has joined the European Union's digital COVID certificate program, the Health and Foreign ministries said Wednesday.

The program is supposed to take effect in early October, according to a joint statement.

This coronavirus travel program will enable vaccinated and recovered Israelis to travel to EU member states and other countries that are members of the program and have their certificate recognized by their country of destination. At the same time, travelers from member countries will also have their vaccination and recovery certificates recognized in Israel. 

The program will also apply to people who have received coronavirus recovery certificates. The Health Ministry has not yet decided if it will allow people with testing certificates to participate. 

A US-made F16 fighter jet takes off from a motorway in Pingtung, southern Taiwan (AFP/Sam Yeh)

Fighter jets practised landing on a highway in southern Taiwan on Wednesday as part of an annual live-fire military exercise that simulates defending the island against an invasion by China.

Democratic Taiwan lives under constant threat of invasion by Beijing, which claims the island as part of its territory and has vowed to one day seize it, by force if necessary.

Military tensions have risen to their highest in decades under President Xi Jinping with China now routinely sending fighter jets and nuclear capable bombers into Taiwan's air defence zone and state media regularly publicising invasion drills.

The launch was said to have happened on Wednesday (File photo) (Image: via REUTERS)

Japanese Prime Minister Yoshihide Suga called the ballistic missile launch "outrageous", and strongly condemned the action as a threat to peace and security of the region.

Japan's coast guard said the projectile appeared to have landed outside the country's 'exclusive economic zone.'

South Korea's Joint Chiefs of Staff said in a statement that they and US intelligence authorities were analysing more details about the launches.

The statement read: "North Korea fired two unidentified ballistic missiles from its central inland region toward the east coast, and intelligence authorities of South Korea and the United States are conducting detailed analysis for further information."

Health Minister Director-General Nachman Ash attends a press conference about the coronavirus, in Jerusalem on August 29, 2021. (Olivier Fitoussi/Flash90)

Health Ministry Director-General Nachman Ash said Tuesday that the current wave of coronavirus infections is surpassing anything seen in previous outbreaks and that he is disappointed that a recent downward trend appeared to be reversing.

Ash's remarks via video call to the Knesset Constitution, Law, and Justice Committee came as Health Ministry figures showed that over 10,000 new COVID-19 cases were diagnosed the day before and that the positive test rate was climbing.

Pointing out that there is an average of 8,000 new infections each day, with occasional peaks over 10,000, he said, "That is a record that did not exist in the previous waves," including the massive third wave at the end of last year.

Bahrain's first-ever envoy to Israel Khaled Yousif Al-Jalahma (R) presents his letter of credence to President Isaac Herzog in Jerusalem, September 14, 2021 (Amos Ben-Gershom/GPO)

Bahrain's first-ever ambassador to Israel Khaled Yousif Al-Jalahma presented his credentials to President Isaac Herzog on Tuesday at the President's Residence in Jerusalem.

Jalahma gave his letter of credence to Herzog in a formal ceremony, a day before the one-year anniversary of the signing of the Abraham Accords at the White House, which normalized ties between Jerusalem and Manama.

Jalahma held a diplomatic meeting with Herzog after the presentation ceremony, which was followed by joint statements to the press in Hebrew and Arabic.

Head of Iran's Atomic Energy Organization Ali-Akbar Salehi attends the opening of the International Atomic Energy Agency (IAEA) General Conference at their headquarters in Vienna, Austria September 16, 2019 (photo credit: REUTERS/LEONHARD FOEGER)

An incident at Iran's Karaj nuclear facility in June, which was attributed by many to the Mossad, may have destroyed some of the IAEA's monitoring equipment, International Atomic Energy Agency Director-General Rafael Grossi said Monday.

He did not mention who caused the incident, but it is possible that Iran used it to take action against the agency's equipment.

Grossi said the loss of the data was a negative development, and he seemed to disapprove of actions against Iranian nuclear facilities.

 

Bennett and el-Sisi - GPO Photo

Israeli Prime Minister Naftali Bennett is set to meet with Egyptian President Abdel Fattah el-Sisi Monday, the first meeting of the two leaders since Bennett took office earlier this year.

Bennett landed Monday afternoon at Sharm el-Sheikh, on the southern edge of the Sinai Peninsula for the meeting with el-Sisi.

El-Sisi extended an invitation to Bennett to visit Egypt last month for a meeting, during the visit of a high level Egyptian intelligence official's trip to Israel.

"The talks will deal with bilateral issues between the two sides covering a wide variety of issues, including how to revive the peace process, as well as opportunities for regional and international development," a spokesperson for the Egyptian president said.

Travelers arrive at Ben Gurion International airport near Tel Aviv on September 10, 2021. (Yossi Zeliger/Flash90)

Israel is working on a system to conduct genetic scanning for all those who arrive in the country in order to better identify travelers infected with the coronavirus, Prime Minister Naftali Bennett said at a cabinet meeting Sunday.

Bennett told ministers that the system will eventually be deployed at Ben Gurion Airport, the country's main international terminus.

"We are working on a scanning system for everyone who comes into Israel," Bennett said, according to comments from the meeting leaked to Hebrew media. "Israel will thus become the radar for the virus."

Navy, Air Force run onto field in sea of American flags for emotional 9/11 game too

Army football led a moment Saturday at Michie Stadium that would give you goosebumps.

The Black Knights came out of the tunnel each carrying an American flag to show support for the victims of the 9/11 terror attacks on the 20th anniversary. The team was getting set to play Western Kentucky in hopes of going 2-0 to start the 2021 season.

Israeli Foreign Minister Yair Lapid with Russian Foreign Minister Sergey Lavrov in Moscow, Sept. 9, 2021. Source: Yair Lapid/Twitter.

(September 9, 2021 / JNS) Israeli Foreign Minister Yair Lapid said during a state visit to Moscow on Thursday that the Jewish state reserves the right to act to stop Iran's nuclear program.

After meeting with his counterpart, Russian Foreign Minister Sergey Lavrov, Lapid said during a joint press conference that "a nuclear Iran will lead to a nuclear arms race in the Middle East."

As such, he called for a strong, clear message to be sent to the Islamic Republic.

He said "Iran's march towards a nuclear weapon is not only an Israeli problem; it's a problem for the entire world."

Judea, Samaria and the Jordan Valley heads of councils attend a press conference of the Yesha Council outside the Prime Minister's Office in Jerusalem, August 12, 2021 (photo credit: YONATAN SINDEL/FLASH90)

Prime Minister Naftali Bennett promised not to freeze the advancement and approval of building plans for new West Bank Jewish homes, during a meeting with settler leaders on Thursday.

"It was a positive meeting," said Yesha Council CEO Yigal Dilmoni, adding that the main goal was to set up a structure to allow for a good working relationship.

It was Bennett's first meeting with the Yesha Council since he took office in May.
---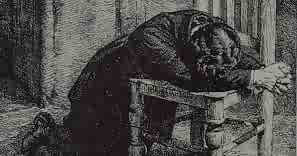 "The men who have done the most for God in this world have been early on their knees. He who fritters away the early morning, its opportunity and freshness, in other pursuits than seeking God will make poor headway seeking Him the rest of the day. If God is not first in our thoughts and efforts in the morning, He will be in the last place the remainder of the day." 
― E.M. Bounds