Top News

Prime Minister Benjamin Netanyahu leads a Likud faction meeting at the Knesset on February 27, 2017. (photo: Yonatan Sindel, Flash90)

Prime Minister Benjamin Netanyahu reportedly told MKs from his ruling Likud party on Monday that he still has not reached an agreement with US President Donald Trump regarding the construction of new homes in West Bank settlements.

Netanyahu said that although he is working with the White House to establish a "mechanism" for coordinating settlement construction, "things are not as simple as you think they are," unnamed participants in the Likud faction meeting told the Haaretz daily.

Trump's presidency "is a historic opportunity, but [we] need to know the limits of this opportunity," Haaretz quoted Netanyahu as saying.

Prime Minister Benjamin Netanyahu (C) tours Israel's southern border with Jordan, February 9, 2016. (photo credit:KOBI GIDON / GPO)

Prime Minister Benjamin Netanyahu on Monday reiterated his warning that Israel will not allow any "drizzle" of rocket fire on its territory from enemy entities. 

"We respond to all fire at our territory; thus we did today and as such we will do in the future," the premier underscored hours after a projectile launched by terrorists exploded in an open field in southern Israel overnight.

Meanwhile, Defense Minister Avigdor Liberman stated that while Israel has no intention of initiating any military action in Gaza, "we have no intention to continue to absorb drizzles (of rockets out of the Strip)."

"We will not get into a ping-pong situation of fire and counter-fire. I suggest Hamas take responsibility, impose order and calm down," Lieberman said in public remarks to legislators of his Yisrael Beytenu party in Jerusalem.

Joint Chiefs Chairman Gen. Joseph Dunford greets Defense Secretary Jim Mattis at the Pentagon, January 21, 2017. (AP Photo/Alex Brandon, File)

Defense Secretary Jim Mattis is presenting the White House with a plan to "rapidly defeat" the Islamic State group, a Pentagon spokesman said Monday. The strategy includes significant elements of the approach President Donald Trump inherited, while potentially deepening US military involvement in Syria.

Navy Capt. Jeff Davis said Mattis provided the results of his 30-day strategy review ahead of a Monday afternoon Cabinet-level meeting of the National Security Council. It's unclear if the discussion will include Trump, who said last week his goal is to "obliterate" IS.

Davis said details of the report are classified secret.

"It is a plan to rapidly defeat ISIS," Davis said, using the Pentagon's preferred acronym for the group, which has proven resilient despite losing ground in its strongholds Syria and Iraq.

 

An Iranian Navy ship in 2012. (file photo: Reuters)

Iran launched naval drills at the mouth of the Gulf and the Indian Ocean on Sunday, a naval commander said, as tensions with the United States escalated after U.S President Donald Trump put Tehran "on notice".

Since taking office last month, Trump has pledged to get tough with Iran, warning the Islamic Republic after its ballistic missile test on Jan. 29 that it was playing with fire and all U.S. options were on the table.

Iran's annual exercises will be held in the Strait of Hormuz, the Gulf of Oman, the Bab el-Mandab and northern parts of the Indian Ocean, to train in the fight against terrorism and piracy, Rear Admiral Habibollah Sayyari said, according to state media.

China's Liaoning aircraft carrier with accompanying fleet conducts a drill in an area of South China Sea in this undated photo taken December, 2016. (file photo: Reuters, Stringer)

The PLA Navy is likely to secure significant new funding in China's upcoming defense budget as Beijing seeks to check U.S. dominance of the high seas and step up its own projection of power around the globe.

China's navy has been taking an increasingly prominent role in recent months, with a rising star admiral taking command, its first aircraft carrier sailing around self-ruled Taiwan and new Chinese warships popping up in far-flung places.

Now, with President Donald Trump promising a U.S. shipbuilding spree and unnerving Beijing with his unpredictable approach on hot button issues including Taiwan and the South and East China Seas, China is pushing to narrow the gap with the U.S. Navy.
---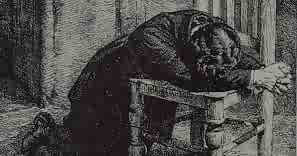 "The men who have done the most for God in this world have been early on their knees. He who fritters away the early morning, its opportunity and freshness, in other pursuits than seeking God will make poor headway seeking Him the rest of the day. If God is not first in our thoughts and efforts in the morning, He will be in the last place the remainder of the day." 
― E.M. Bounds