Top News

Special Counsel Robert Mueller's team on Friday released key documents relating to the FBI's questioning of former national security adviser Michael Flynn, confirming agents did not believe at the time Flynn intentionally lied to them -- though he was later charged with making false statements in that interview.

The documents also reveal that the decision to interview Flynn in early 2017 about contacts with the Russian ambassador was controversial within the Justice Department. One FBI document said then-Acting Attorney General Sally Yates "was not happy" when then-FBI Director James Comey informed her that the FBI planned to talk to Flynn. The report also said several unnamed people back at FBI headquarters "later argued about the FBI's decision to interview Flynn."

The documents – some of which are heavily redacted – were released in response to U.S. District Judge Emmet G. Sullivan ordering prosecutors to hand over the government's files related to the FBI's questioning of Flynn by Friday afternoon. The order came after Flynn's legal team said in a filing that the FBI discouraged Flynn from bringing a lawyer to the interview and agents never advised him false statements in that setting could constitute a crime. The newly released documents confirm those claims.

 

The Justice Department and FBI have missed a Wednesday deadline to provide information about the government's mysterious raid on a former FBI contractor-turned-whistleblower's home last month.

Sixteen FBI agents on Nov. 19 raided the home of Dennis Nathan Cain, who reportedly gave the Justice Department's Inspector General (IG) documents related to the Uranium One controversy and potential wrongdoing by former Secretary of State Hillary Clinton.

The documents in question allegedly showed that federal officials failed to investigate possible criminal activity related to Clinton, the Clinton Foundation and Rosatom, a Russian nuclear company. Its subsidiary purchased Canadian mining company Uranium One Uranium One in 2013.

Senate Judiciary Committee Chairman Chuck Grassley, R-Iowa, whose panel has oversight of the Justice Department, penned a letter to FBI Director Christopher Wray and Justice Department IG General Michael Horowitz, requesting information on the justification for the raid. Grassley gave Wray and Horowitz until Dec. 12 to respond to his request.

US Ambassador to Israel David Friedman . (photo credit: LIOR MIZRACHI)

The Palestinian Authority can be a "political body" or a "sponsor of terrorism," but cannot be both, US Ambassador David Friedman posted on his Twitter page on Thursday.

The post came shortly after the terrorist attack near Givat Assaf killed two soldiers, critically wounded another soldier and seriously wounded a civilian.

"In the past week #Palestinian terrorists have killed or wounded 14 #Israelis in multiple attacks. The Pal Authority maintains laws that will compensate these terrorists and their families for their heinous acts," Friedman wrote. "The PA can be a political body OR a sponsor of terror, not both.

Illustrative image of a hacker, via Shutterstock.

LONDON (AP) — As US President Donald Trump re-imposed harsh economic sanctions on Iran last month, hackers scrambled to break into personal emails of American officials tasked with enforcing them, The Associated Press has found — another sign of how deeply cyberespionage is embedded into the fabric of US-Iranian relations.

The AP drew on data gathered by the London-based cybersecurity group Certfa to track how a hacking group often nicknamed Charming Kitten spent the past month trying to break into the private emails of more than a dozen US Treasury officials. Also on the hackers' hit list: high-profile defenders, detractors and enforcers of the nuclear deal struck between Washington and Tehran, as well as Arab atomic scientists, Iranian civil society figures and DC think tank employees.

"Presumably, some of this is about figuring out what is going on with sanctions," said Frederick Kagan, a scholar at the American Enterprise Institute who has written about Iranian cyberespionage and was among those targeted.

Iranian armed forces members march during the annual military parade in Tehran, Iran September 22, 2018. (photo credit: TASNIM NEWS AGENCY/HANDOUT VIA REUTERS)

Israel does not rule out acting militarily inside Iran's border if it feels that is necessary for its security, Prime Minister Benjamin Netanyahu said on Wednesday.

Asked at an annual appearance before the foreign press if Israel would act inside Iran's borders, Netanyahu said, "Our redline is our survival. We do what is necessary to protect Israel against the Iranian regime that openly calls for the annihilation of the Jewish state."

Pressed if that means Israel is not ruling out engaging Iran inside Iran, Netanyahu replied: "I'm not ruling out doing anything we need to defend ourselves. For the moment, Israel is the only military in the world that is directly engaging Iranian forces. We are doing that in Syria and pulling them back."

Iran, Netanyahu said, is "interested in bringing their army 1,500 km. from Iran to our borders, bringing in missiles with a range of 400 to 700 km., which covers  all of Israel; and bringing in 80,000 Shia militias with the express purpose of destroying us."

Recep Tayyip Erdogan - Reuters

Turkish President Recep Tayyip Erdogan announced that Turkey would launch an operation against US-backed Kurdish forces in northern Syria in the coming days.

"We have made our warnings and completed our preparations," Erdogan said in Ankara. He accused the US of setting up observation posts in the area "not to protect our country from terrorists but to protect them from us."

The US announced the establishment of the posts last month for the purpose of preventing ISIS terrorists from fleeing into Turkey.

Erdogan has repeatedly threatened to attack the YPG Kurdish militia operating east of the Euphrates River. The YPG has been battling ISIS with the assistance of the US.

US Secretary of State Mike Pompeo adjusts his tie during a UN Security Council meeting on Iran's compliance with the 2015 nuclear agreement, on December 12, 2018, at United Nations headquarters. (AP Photo/Mary Altaffer)

UNITED NATIONS — US Secretary of State Mike Pompeo on Wednesday urged the UN Security Council to ban any Iranian activity related to ballistic missiles capable of delivering nuclear weapons and accused Tehran of building "a robust ballistic missile force" that threatens the Mideast and Europe.

Pompeo told the UN's most powerful body that Iran has built the largest ballistic missile force in the region and has more than 10 ballistic missile systems in its inventory or in development.

"We risk the security of our people if Iran continues stocking up on ballistic missiles," Pompeo said.

"We risk escalation of conflict in the region if we fail to restore deterrence. And we convey to all other malign actors that they too can defy the Security Council with impunity if we do nothing," he added.

Prime Minister Benjamin Netanyahu meets IDF soldiers, December 11, 2018. (photo credit: KOBI GIDEON/GPO)

Prime Minister Benjamin Netanyahu, who visited the north Tuesday for the second time in less than a week, said that the uncovering of the third Hezbollah attack tunnel is part of the process of "systematically dismantling" these weapons. 

Netanyahu said that Hezbollah will "make a big mistake" if it tries to harm IDF soldiers or resist the army's operation to expose the tunnels, and  would receive a blow "that it cannot even imagine."

Netanyahu and Chief of Staff Lt.-Gen Gadi Eisenkot held a security assessment with OC Northern Command Maj.-Gen Yoel Strick, and other senior officers. Netanyahu also met brigade and battalion commanders and soldiers involved in the operation, and then with ocal authority heads in the north. 

Netanyahu praised the spirit and preparedness of the soldiers and officers.

"Hezbollah thought that it was building these tunnels without any hindernance," he said. "We knew about it, and planned for it, and this did not leak out. We keep the secret , and planned [this operation] carefully."

Prime Minister Benjamin Netanyahu (3rd from right) cuts the ribbon at an inaugural ceremony of a new interchange at the central West Bank settlement of Adam on December 11, 2018. (Jacob Magid/Times of Israel)

Prime Minister Benjamin Netanyahu vowed Tuesday to continue to develop Israeli settlements in response to Palestinian terror, such as the drive-by shooting that took place outside Ofra earlier this week.

Speaking at an inaugural ceremony for a new interchange outside the Adam settlement in the central West Bank, Netanyahu said, "Our enemies want to uproot us from here, but… as long as I am the prime minister of Israel, not a single Jew will be uprooted from his home.

"Not only will Jews not be uprooted from their homes, but we will build and add to them," he added.

IDF troops uncover a tunnel leading into Israeli territory from southern Lebanon, which Israel says was dug by the Hezbollah terror group, on December 11, 2018. (Israel Defense Forces)

The Israel Defense Forces said it uncovered a Hezbollah cross-border attack tunnel that penetrated Israeli territory from southern Lebanon on Tuesday, the third passageway found since the military launched a digging operation on the border last week.

The army said it had drilled into the passage and planted explosives inside it to ensure it cannot be used.

This was the third tunnel that the IDF has found inside Israeli territory as part of its Operation Northern Shield to find and destroy such subterranean infrastructure.

Jim Mattis Photographer: Andrew Harrer/Bloomberg

Since Donald Trump assumed office almost two years ago, U.S. allies in Europe, Asia and beyond have counted on a number of so-called adults in the room to constrain an unpredictable president. With the imminent departure of White House Chief of Staff John Kelly, only Defense Secretary Jim Mattis remains.

As Trump assembled his first cabinet, allies took comfort that the group -- including retired or serving generals -- would help preserve the fundamentals of U.S. foreign and economic policy that have largely endured for decades. The expectation was they would guide, and even restrain, the new commander-in-chief of the world's most powerful military.

Attrition has been high. Secretary of State Rex Tillerson was fired by tweet in March. Chief economic adviser, former Goldman Sachs Chief Operating Officer Gary Cohn announced he was resigning the same month, while Marine Corps Lieutenant General H.R. McMaster said he was leaving as National Security Adviser. And now Trump has announced Kelly, a retired Marine General, will leave later this month.

 

 

Mattis, the warrior intellectual in charge of the Pentagon, has worked to get fellow North Atlantic Treaty Organization members and Pacific allies to watch what the U.S. does, not what it tweets.

The matter of Gen. Michael Flynn began with criminal conduct.  But it was not committed by Flynn.  The crimes were leaking the contents of classified telephone conversations between Flynn and Russian Ambassador Sergey Kislyak and revealing the identity of Flynn as a party to the conversations.

The sorry saga began with a January 12, 2017 column about the Flynn/Kislyak conversations by The Washington Post's David Ignatius, who described his source as a "senior U.S. government official," i.e., an Obama administration functionary.   Whoever told Ignatius the fact of and substance of the eavesdropped conversations committed a felony by leaking classified information.

A Shahab-3 long range missile is displayed during a rally marking Jerusalem Day in Tehran, on June 23, 2017. (AFP PHOTO / Stringer)

Iran has more than doubled the number of missile tests it has performed in the past year in possible violation of the 2015 nuclear deal, the German Die Welt daily reported Sunday.

In 2018, Tehran test-fired at least seven medium-range missiles and at least five short-range missiles and cruise missiles, the report said, citing documents obtained from unspecified Western intelligence services and verified "with various sources."

By comparison, only four such tests of medium-range missiles and one test launch of a short range missile were said to have been conducted in 2017.

The report said it was possible that the missiles were nuclear-capable ballistic weapons, which the Islamic Republic was banned from testing as part of the 2015 internationally supported agreement.

Israeli security and medical personnel evacuate an Israeli woman from an ambulance at the Shaarei Tzedek Medical Center in Jerusalem, after she was was seriously injured in a terror attack in Ofra, December 9, 2018. (Hadas Parush/Flash90)

Doctors successfully delivered the baby being carried by a 21-year-old Israeli woman late Sunday night, shortly after she was shot and critically hurt in a terrorist attack outside the West Bank settlement of Ofra.

The baby, who was delivered in the 30th week of the pregnancy, was immediately transferred to the ward for premature babies at Jerusalem's Shaare Zedek Medical Center, the hospital said, and was said to be in "good" condition.

The woman was undergoing surgery late Sunday and was "fighting for her life," the hospital said.

She was shot by gunfire from a passing car as she waited, among a crowd of people, at a bus stop outside the Israeli West Bank settlement of Ofra.
---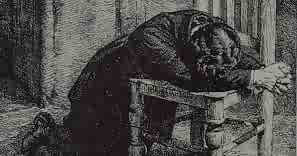 "The men who have done the most for God in this world have been early on their knees. He who fritters away the early morning, its opportunity and freshness, in other pursuits than seeking God will make poor headway seeking Him the rest of the day. If God is not first in our thoughts and efforts in the morning, He will be in the last place the remainder of the day." 
― E.M. Bounds