Top News

A group of naval vessels from Russia and China conduct a joint maritime military patrol in the waters of the Pacific Ocean, in this still image taken from video released on October 23, 2021. (photo: Russian Defence Ministry Handout via Reuters)

Russian and Chinese warships held their first joint patrols in the western Pacific Ocean over the past week, Russia's defence ministry said on Saturday, a move Japan said it was monitoring.

Moscow and Beijing, which staged naval cooperation drills in the Sea of Japan earlier in October, have cultivated closer military and diplomatic ties in recent years at a time when their relations with the West have soured.

The naval manoeuvres, which Russia said ran from Sunday through Saturday, have been closely watched by Japan, which said earlier in the week that a group of 10 vessels from China and Russia sailed through the Tsugaru Strait separating Japan's main island and its northern island of Hokkaido.

View of the Jewish settlement of Efrat and the surrounding fields, in Gush Etzion, West Bank, on December 1, 2020. (credit: GERSHON ELINSON/FLASH90)

The US is "concerned" by the IDF's intention to advance plans for 3,000 settler West Bank homes, including for the legalization of two outposts.

It is the first such large-scale advancement of settler housing plans by the Higher Planning Council for Judea and Samaria since US President Joe Biden was sworn into office.

The announcement comes amid media reports that Prime Minister Naftali Bennett is under extra US pressure to freeze such plans. Cabinet ministers and officials close to Bennett have denied those reports.

US State Department spokesman Ned Price was queried about the announcement at Friday's news briefing.

"We are concerned about the announcement of a meeting next week to advance settlement units deep in the West Bank, and believe it is critical for Israel and the Palestinian Authority to refrain from unilateral steps that exacerbate tension and undercut efforts to advance a negotiated two-state solution," said Price. "This certainly includes settlement activity, as well as retroactive legalization of settlement outposts."

US Secretary of State Antony Blinken (right) gestures to Defense Minister Benny Gantz, on June 3, 2021, at the State Department in Washington, DC. (AP Photo/Jacquelyn Martin)

An Israeli defense official on Saturday disputed American claims that the United States was not informed of a highly contentious decision by Jerusalem to label six Palestinian rights organizations as terror groups, insisting Washington had been told in advance.

"Officials in the American administration were updated in advance of the intention to make this declaration and they received intelligence information about the matter," the defense official said, speaking on condition of anonymity.

On Friday afternoon, Defense Minister Benny Gantz announced that half a dozen Palestinian civil society groups — including highly prominent ones with significant backing and oversight from the European Union and other international bodies — were being designated as terror organizations, asserting that they worked on behalf of the Popular Front for the Liberation of Palestine (PFLP) terror group.

A very strong area of low pressure, deemed a "bomb cyclone" will approach the Pacific Northwest this weekend, bringing an "atmospheric river" of moisture to California.

This system is forecast to rapidly strengthen on approach to the Pacific Northwest, becoming a "bomb cyclone" over the next 24 to 48 hours. This system could be one of the lowest pressure storms to ever develop across the northeastern Pacific Ocean, with a forecast pressure comparable to major hurricanes in the Atlantic.

"I don't think a lot of people realize that these cyclones in the northern Pacific can be equivalent to a hurricane in the Gulf of Mexico or Atlantic," Carly Kovacik, a lead meteorologist for the National Weather Service office in Seattle, told CNN. "A lot of these storms produce very strong winds and high seas, but since they are mid-latitude storms, we just don't call them hurricanes even though the impacts can be very similar."

Prime Minister Naftali Bennett (C) speaks with Russian President Vladimir Putin (R) while accompanied by Housing Minister Ze'ev Elkin who acted as a translator at Putin's residence in Sochi, Russia on October 22, 2021 (Kobi Gidon/GPO)

Prime Minister Naftali Bennett's first meeting as premier with Russian President Vladimir Putin went on for some five hours Friday, forcing the Israeli leader to extend his visit to Sochi until after Shabbat, his office said.

"The meeting was warm and positive and dealt with a series of issues of importance to the two nations," said a statement from Bennett's office after the two leaders met at the Black Sea resort town for their first face-to-face talks since Bennett took office earlier this year.

The statement said the official meeting at Putin's residence lasted some five hours after which the two leaders "went outside to speak on the balcony of the residence and then walked through the paths of the grounds toward the sea."

Fox News Photo

FIRST ON FOX: Arizona's attorney general on Friday filed a request for a temporary restraining order to stop the Biden administration implementing a controversial vaccine requirement as a lawsuit filed last month moves forward.

"Once a vaccine has been administered, it can never be undone," Attorney General Mark Brnovich said in a statement announcing the move. "The COVID-19 vaccine mandate is one of the greatest infringements upon individual liberty, federalism, and the separation of powers by any administration in our country's history."

Personnel work on air defense missiles during an exercise, in Iran, Thursday, Oct. 21, 2021. (photo: AP/Iranian Army)

Iran on Thursday kicked off an annual air force drill across the country, a week after holding another massive exercise in air defense, state TV reported.

The report said bombers, jet fighters, and attack and surveillance drones will participate in the drill, using heavy weapons including laser-guided missiles.

Footage broadcast showed jet fighters and bombers in flight and at takeoff, including U.S-made F4s and F5s, as well as the Iranian-made Saegheh. Iran bought the American fighters before Washington banned such sales following the 1979 Islamic Revolution. It also has Russian fighters in service.

Illustrative: An Israeli Air Force Boeing KC-135 Stratotanker and F-16 fighter jets perform during an air show over Tel Aviv on May 9, 2019, as Israel marks its 71st Independence Day. (photo: AFP, Jack Guez)

The Israeli Air Force has resumed training for a possible strike on Iranian nuclear facilities, Israeli television reported Thursday.

According to Channel 12 news, Israel Defense Forces Chief of Staff Aviv Kohavi ordered that budgetary funds be set aside for drilling such a scenario, after a two-year hiatus.

The network said Kohavi had also ordered that the air force train "intensely" in simulating a strike on Iran's nuclear program.

TRAVELERS WALK through Ben-Gurion Airport earlier this year. (photo credit: AVSHALOM SASSONI/FLASH90)

Prime Minister Naftali Bennett and the Health and Tourism ministries approved a plan on Thursday to allow vaccinated and recovered tourists into the country beginning Nov. 1, despite a revelation that at least a handful of cases of the new AY4.2 variant have entered Israel in the last few days.

According to the plan, which still must be ratified by the full government, tourists who have been vaccinated with the Pfizer, Moderna, AstraZeneca, Johnson and Johnson, Sinovac or Sinopharm vaccines within the last six months will be able to enter the country.

Furthermore, recovered individuals who can show that they tested positive at least 11 days prior to entering Israel and no more than 180 are also eligible to enter. If more than six months have passed and these individuals receive a booster, they can also enter the country.

All travelers will be required to take a PCR test within 72 hours of boarding the plane and on arrival. They will also be required to stay in isolation until the results of the test come back negative.

US Secretary of State Antony Blinken accompanied by Foreign Minister Yair Lapid, left, and United Arab Emirates Foreign Minister Sheikh Abdullah bin Zayed al-Nahyanin, right, appear at a joint news conference at the State Department in Washington, October 13, 2021. (photo: AP/Pool, Andrew Harnik)

The US and Israel are reportedly planning to form a joint team tasked with resolving a growing dispute over the Biden administration's plan to reopen the US consulate in Jerusalem, against the wishes of Prime Minister Naftali Bennett's new government.

The joint panel will be led by US Secretary of State Antony Blinken and Foreign Minister Lapid, along with one or two senior aides from both sides, according to a Wednesday Axios report.

Blinken proposed the idea during a meeting with Lapid in Washington last week, when Biden's plan to reopen what historically served as the de facto representative mission to the Palestinians was raised. The consulate was shuttered by former US president Trump in 2019 and its staff were folded into the US embassy, moved to the city a year earlier, in what the Palestinians view as a de facto downgrading of their ties with the US.

The first "Blue Flag" exercise took place in November 2013 and has been held on a biennial basis since then. (file photo: Israel Hayom, Yehuda Ben Itach)

The Israeli Air Force is currently hosting a multinational military aviation exercise described as "Israel's largest and most advanced aerial exercise ever."

The "Blue Flag' aerial exercise took off on Sunday at Uvda Air Force Base in southern Israel and is scheduled to last for two weeks until October 28.

Seven air forces from around the world are participating: Germany, Italy, Britain, France, India, Greece and the United States.

From left: SpaceIL chairman Morris Kahn, Sarah bint Yousef Al Amiri, Emirati Minister of State for Advanced Technology and Chairwoman of the UAE Space Agency, and SpaceIL CEO Shimon Sarid. (photo: Courtesy)

Israel and the United Arab Emirates finalized an agreement on Wednesday to collaborate on a number of space projects, including a joint launch of the "Beresheet 2" space mission to the moon, Israel's second upcoming attempt to land an unmanned spacecraft on the lunar surface by 2024 when the countries expect to plant their flags alongside each other.

The United Arab Emirates Space Agency (UAESA) also signed a deal with the Israel Space Agency to enhance cooperation in scientific research, space exploration, and knowledge transfer.

Travelers wait to check in at the Southwest Airlines ticketing counter at Baltimore Washington International Thurgood Marshall Airport on October 11, 2021 in Baltimore, Maryland. (photo: Getty Images, Kevin Dietsch)

Southwest Airlines has scrapped a plan to put unvaccinated employees who have applied for but haven't received a religious or medical exemption on unpaid leave as of a federal deadline in December.

Southwest Airlines and American Airlines are among the carriers that are federal contractors and subject to a Biden administration requirement that their employees are vaccinated against Covid-19 by Dec. 8 unless they are exempt for medical or religious reasons.

Rules for federal contractors are stricter than those expected from the Biden administration for large companies, which will allow for regular Covid testing as an alternative to a vaccination.

PORTLAND, Maine (AP) — The U.S. Supreme Court declined Tuesday to block a vaccine requirement imposed on Maine health care workers, the latest defeat for opponents of vaccine mandates.

It was the first time the Supreme Court weighed in on a statewide vaccine mandate. It previously rejected challenges of vaccine requirements for New York City teachers and Indiana University staff and students.

Justice Stephen Breyer rejected the emergency appeal but left the door open to try again as the clock ticks on Maine's mandate. The state will begin enforcing it Oct. 29.

Opponents tried to block the mandate, but a federal judge rejected the request Oct. 13. The judge said the record indicated regular testing alone wasn't sufficient to stop the spread of the delta variant.

That decision set off a flurry of emergency appeals to the 1st U.S. Circuit Court of Appeals and then the U.S. Supreme Court.

(photo: CBS DFW)

Current and former Southwest Airlines workers gathered to protest recent COVID-19 vaccination mandates on Monday, Oct. 18.

They gathered to celebrate "medical freedom" at the airline's headquarters in Dallas.

Southwest set its deadline the first week of October under a federal vaccination mandate for employees of companies holding contracts with the U.S. government. But workers can seek medical or religious exemptions. Workers have until late November to comply with the vaccine mandate.

Hospital staff at Hillel Yaffe Medical Center log patient details with pen and paper, following a ransomware cyberattack, October 13, 2021. (Hillel Yaffe Medical Center)

Health Ministry cybersecurity chief Reuven Eliyahu said Monday morning that last week's massive ransomware attack on Hillel Yaffe Hospital in Hadera was likely carried out by Chinese hackers whose motives were "purely financial."

"This is probably a Chinese hacker group that broke away from another group and started working in August," Eliyahu said in an interview on Army Radio. "The motive for the attack was purely financial."

A ransomware attack involves breaking into an entity's networks to encrypt its data, then demanding a ransom, typically paid via cryptocurrency, to unlock it. As a government hospital, Hillel Yaffe was barred from paying any ransom, according to Channel 12 news.

Gen. Colin Powell, seen here in New York City in 2017, died from COVID-19 complications, his family announced. (Daniel Zuchnik/WireImage, File)

Gen. Colin Powell, the influential former secretary of state and chairman of the Joint Chiefs of Staff who played a pivotal policy role during the administration of then-President George W. Bush, died Monday at 84 from complications related to COVID-19, his family announced.

"We have lost a remarkable and loving husband, father, grandfather and a great American," his family said in a statement, adding that he was fully vaccinated.

The statement continued, "We want to thank the medical staff at Walter Reed National Medical Center for their caring treatment."

President Biden appears to be leaning more on his former boss as the White House comes under increased pressure to improve the nation's economy and outlook on the future of the Democratic Party.

Former President Obama will attend the United Nations COP26 climate summit in Glasgow, Scotland, early next month to highlight the "important progress" made with climate change since the Paris Agreement took effect. Meanwhile, President Biden and his Cabinet participate in the World Leader Summit in Glasgow on Nov. 1 and 2 at the beginning of the 26th Conference of the Parties to the UN Framework Convention on Climate Change. 

It is unclear whether Obama will participate in any meetings or events with Biden and his Cabinet officials. Earlier this year, the White House said Biden and Obama spoke "regularly" about a "range of issues" as well as personal matters but did not disclose the frequency of those conversations.

A sign marks the entrance of the home office of Christian Aid Ministries in Millersburg, Ohio, October 17, 2021. (photo: Reuters, Aaron Josefczyk)

A U.S. Christian aid organization on Sunday said a group of its missionaries had been kidnapped in Haiti, a further sign the Caribbean nation's gangs are growing increasingly brazen amid political and economic crises.

The group was in Haiti to visit an orphanage when their bus was hijacked on Saturday outside the capital Port-au-Prince, according to accounts by other missionaries, amid a spike in kidnappings following the murder of President Jovenel Moise.

Ohio-based Christian Aid Ministries said it had no information on who was behind the abduction nor where they took the group, which includes 16 Americans and one Canadian.

Chinese President Xi Jinping during the closing ceremony for the 19th Party Congress at the Great Hall of the People in Beijing, China. (photo: AP, Ng Han Guan)

China tested a nuclear-capable hypersonic missile in a move that caught U.S. intelligence by surprise, according to a new report. 

The missile launched in August and circled the globe before speeding towards its target, which it missed by about two-dozen miles according to three individuals briefed on the intelligence. Two of those individuals said the test showed how far China has progressed on hypersonic weaponry – farther that U.S. officials realized. 

"We have no idea how they did this," one individual told The Financial Times. 

Indian FM Subrahmanyam Jaishankar speaks to Indian-Israelis at the King David Hotel in Jerusalem, October 17, 2021. (photo: Times of Israel, Lazar Berman)

Indian Foreign Minister Subrahmanyam Jaishankar lauded the business relationship between his country and Israel on Sunday, saying at a meeting with CEOs and government officials that India regards Israel "in many ways as perhaps our most trusted and innovative partner."

"The degree of trust between us is very high," said India's top diplomat during the business roundtable at Jerusalem's King David Hotel on Sunday night.

Jaishankar landed in Israel earlier in the day, ahead of his meetings on Monday with Prime Minister Naftali Bennett, President Isaac Herzog, Foreign Minister Yair Lapid, and Energy Minister Karine Elharrar.

The Loudoun County prosecutor who sought jail time against a father who was arrested at a school board meeting after his daughter was allegedly sexually assaulted in a school bathroom has ties to progressive megadonor George Soros and Democratic Virginia gubernatorial nominee Terry McAuliffe.
---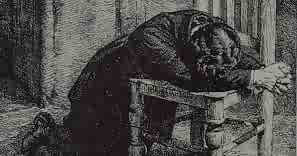 "The men who have done the most for God in this world have been early on their knees. He who fritters away the early morning, its opportunity and freshness, in other pursuits than seeking God will make poor headway seeking Him the rest of the day. If God is not first in our thoughts and efforts in the morning, He will be in the last place the remainder of the day." 
― E.M. Bounds