HURRICANE IDA 
Biden-Bennett and Hurricane Ida - 72 hours 
Thursday, August 26, 2021
Joe Biden was to meet with Israeli PM Naftali Bennett at 11:30 a.m. EDT on Thursday, August 26, 2021.
The National Hurricane Center posted Advisory #1 at 11:00 a.m. EDT for Tropical Depression 9. By 2:00 p.m. EDT the storm had become Tropical Storm Ida.
Both Accuweather and the Weather Channel reported Thursday afternoon that Ida was expected to be a major hurricane by the time it comes ashore in the Southern Gulf Coast, Sunday morning, the sixteenth anniversary of Hurricane Katrina, the costliest storm in U.S. history.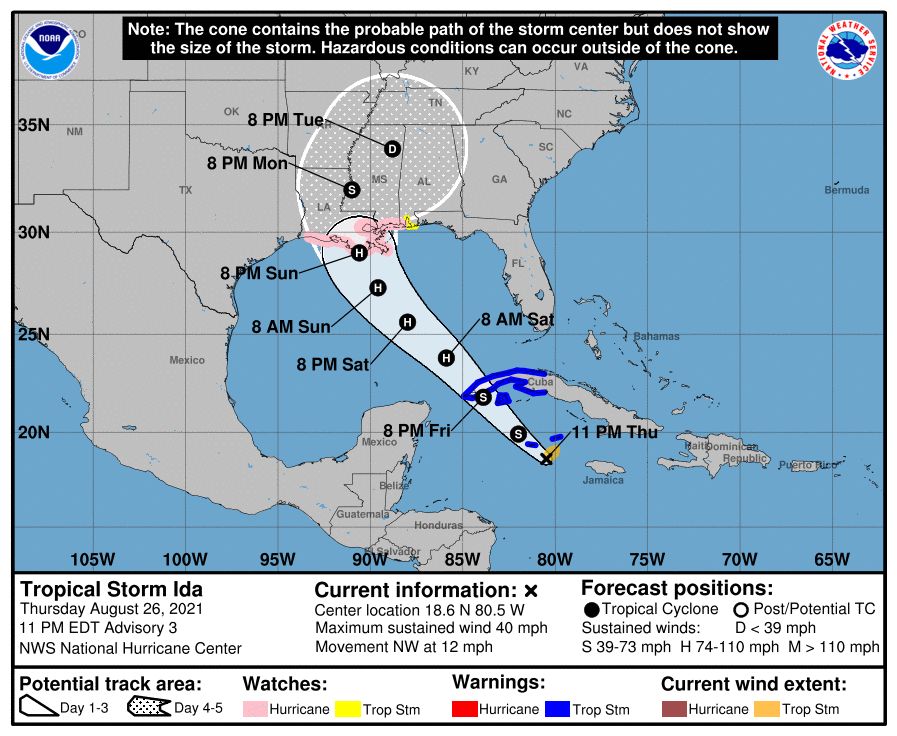 The Biden-Bennett meeting was moved to Friday morning, August 27, due to the Kabul Airport bombing tragedy.
On Friday, the major news was the Biden-Bennett meeting and preparation for Hurricane Ida and the continued fallout from the Afghanistan debacle and tragedy.
Friday afternoon:
Hurricane Ida barreling toward US, may approach Gulf Coast as Category 4 storm - Accuweather 
Hurricane warning for New Orleans: A hurricane warning has been issued from Intracoastal City, Louisiana eastward to the mouth of the Pearl River, including Lake Pontchartrain, Lake Maurepas, and Metropolitan New Orleans.
Judgement:
Southern Decadence 2021 was scheduled for New Orleans, Sept 2-6, 2021.  A major annual LGBTQ event. 
———
Biden-Bennett meeting comments at the White House
Video of 12 minutes: https://youtu.be/seQx_5MckGI
Biden spoke off notes for 2 minutes and 45 seconds.
Bennett then spoke. At about the 10:15 minute point, Biden turned his head down as if sleeping. His non-verbals were very concerning.
At the 10:51 point in the recording, Biden said to Bennet, "You gave me credit (for military edge) but much of that should go to Barack Obama for making sure that we were committed to much of the qualitative edge relative to your friends in the region. He is the one who deserves the credit." (Biden's voice was weak—it was hard to completely hear him without turning up the volume.)
-----
Chronology August 26-29, 2021
AUGUST 26, 2021 
Bennett-Biden meeting delayed to Friday due to deadly Kabul attacks; preparing for the possibility of extending the trip over the weekend
Prime Minister Naftali Bennett huddles with his advisers ahead of his meeting with US President Joe Biden in Washington on August 26, 2021 (Avi Ohayon/GPO)
WASHINGTON — The much-anticipated meeting between Prime Minister Naftali Bennett and US President Joe Biden at the White House was postponed Thursday, after deadly attacks at Kabul airport.
The meeting will now be held on Friday at 11:30 a.m. (6:30 p.m. Israel time), the White House announced. Due to the sit-down's proximity to the Sabbath, Bennett will wait to return to Israel until Saturday night, his office said. 
The first sit-down between the two leaders was slated to begin at 11:30 a.m., but shortly after noon, Israeli journalists in the White House briefing room were instructed to return to the hotel and await further developments.
Bennett's staff were preparing for the possibility of extending the trip over the weekend and were in touch tentatively with the Willard Intercontinental Hotel about extending their stay, as the Orthodox prime minister will not travel over Shabbat. 
Jerusalem Post: We must not let Biden divide Jerusalem
-----
AUGUST 27, 2021 
Bennett, Biden commence private Oval Office meeting ahead of public statements
Bennett says he invited Biden to Israel 'after Delta variant defeated'
WASHINGTON — Briefing Israeli reporters after his meeting with US President Joe Biden, Prime Minister Naftali Bennett says he invited the president to visit Israel after the ongoing pandemic wave resides.
Full text: Biden and Bennett's statements at the White House
"I invited the president to Israel after we defeat the Delta variant," Bennett says.
"I am truly grateful to the president and his entire staff on their determination to carry out the meeting. [Biden] said immediately [after the delay] that in any event we would have a full meeting," Bennett tells reporters.
Oil Firms Evacuate Gulf Of Mexico Platforms Ahead Of Hurricane Ida 
Hurricane Ida barreling toward US, may approach Gulf Coast as Cat 4 storm
---
HURRICANE WARNING FOR NEW ORLEANS: Hurricane Katrina 16 year anniversary Sunday
-----
AUGUST 28, 2021
Biden says he has coordinated with governors, electric utilities on Hurricane Ida
WASHINGTON, Aug 28 (Reuters) - U.S. President Joe Biden on Saturday said he has spoken to governors of states in the Gulf of Mexico region and has coordinated with electric utilities in preparation for Hurricane Ida, the powerful storm expected to make landfall late Sunday.
"We've prepositioned food, water, generators and other supplies in the area. Power restoration and mobile communications support teams are also en route. We've also closely coordinated with the electric utilities to restore power as soon as possible," Biden said at a briefing with the Federal Emergency Management Agency (FEMA).
----
Biden asked Bennett to re-open the de-facto mission to the Palestinians in Jerusalem after it was shuttered by former president Trump
WASHINGTON — US President Joe Biden reaffirmed his plan to reopen the US consulate in Jerusalem and expressed his opposition to Israeli evictions of Palestinian families in the Sheikh Jarrah neighborhood during a closed Oval Office meeting with Prime Minister Naftali Bennett, a senior White House aide in the room told American Jewish leaders in a subsequent phone call on Friday.
Hurricane Ida Becomes a Category 2 on Way to Category 4 Landfall
Hurricane Ida barreling toward US
----
AUGUST 29, 2021
Fox News: Katrina on Steroids, Worst Storm Ever to Hit Louisiana 
Bloomberg: Hurricane Ida May Damage Almost 1 Million Homes on U.S. Gulf
Bennett's government won't approve massive home construction in the West Bank per agreement with Biden
Army Radio also reported that Bennett and Biden had agreed during their meeting not to emphasize their disagreements regarding construction in West Bank settlements. The Biden administration will reportedly not pressure Israel on the matter, while Bennett's government won't approve massive construction.
Ida's extremely dangerous eyewall is moving onshore in southeast Louisiana
The very dangerous northern eyewall of Hurricane Ida is moving onshore along the southeast Louisiana coast, according to the 12 p.m. EDT update from the National Hurricane Center. 
The eyewall is the most dangerous part of a hurricane, which contains the highest winds. 
The storm continues to pack winds of 150 mph with higher gusts and is still an extremely dangerous, Category 4 hurricane.
Hurricane Ida almost at Cat 5 strength as it approaches Louisiana on Hurricane Katrina anniversary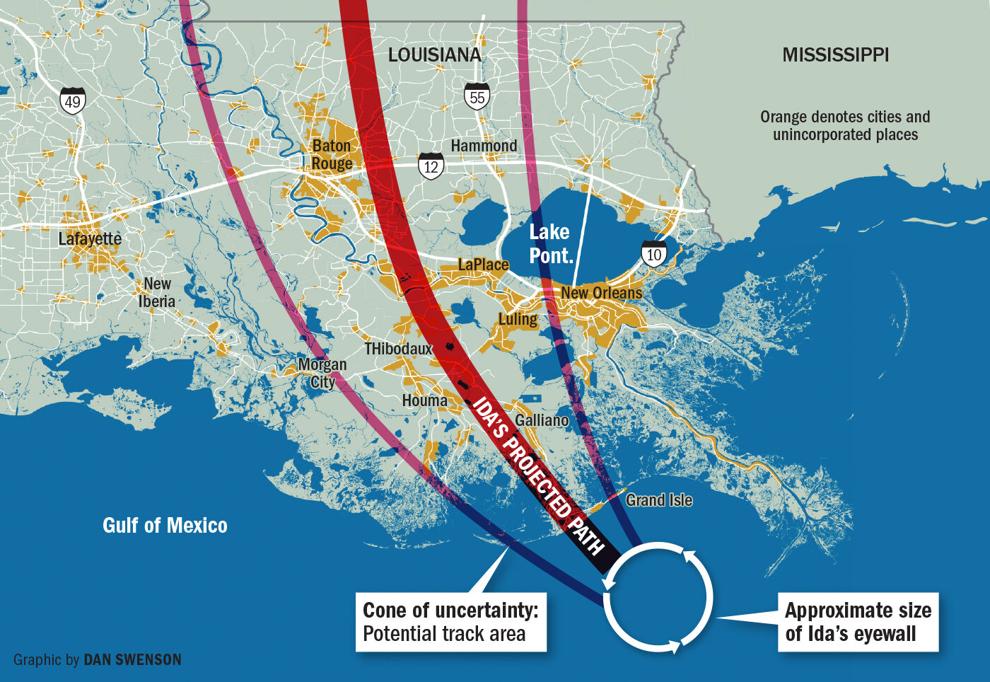 Hurricane Ida is almost at Category 5 strength as it approaches Louisiana on the 16th anniversary of Hurricane Katrina.
Hurricane Ida now has winds of 150 mph and additional strengthening is possible, forecasters with the National Hurricane Center said in a 7 a.m. update. Category 5 storms have winds of 157 mph or greater.
The storm is forecast to make landfall later Sunday on Louisiana's coast.
Storm surge from Ida could overtop some West Bank levees; officials say they will hold