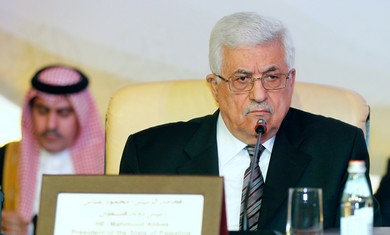 Israeli government official slams Abbas's comments at International Conference for the Defense of Jerusalem in Qatar, comparing them to Arafat's denial of Jewish temple in the city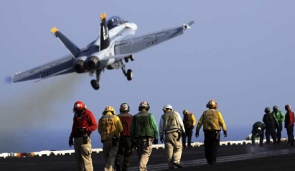 Wall Street Journal reports that U.S. military is positioning new equipment
and expanding surveillance in the strategic Strait of Hormuz region.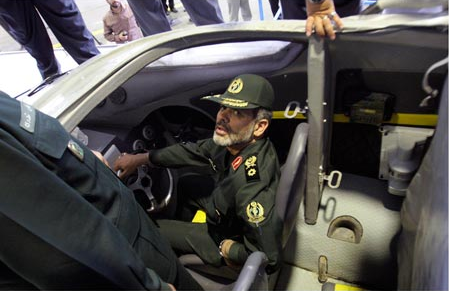 Ahmad Vahidi Photo: Reuters
Tehran's deputy defense minister warns Jerusalem against strike on Iran's
nuclear facilities, says 'any action by Zionist regime will bring about its destruction'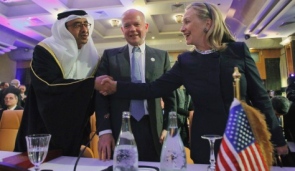 UAE FM Sheikh Abdullah bin Zayed al-Nahyan, British FM William Hague,
and U.S. Secretary of State Hillary Rodham Clinton
at the Friends of Syria Conference in Tunisia, Feb. 24, 2012.
Statement comes day after U.S. Secretary of State Hillary Clinton called
Russia and China 'despicable' for vetoing UN Security Council resolution on Syria.
Russia and Iran are continuing to send arms to the Syrian regime that
can be used against protesters, a top State Department official said today.
"Iran is resupplying Syria and through Syria has supplied weapons to Hezbollah," said Tom Countryman, the assistant secretary of state for international security and nonproliferation, at a Wednesday morning breakfast meeting of the Defense Writers Group in Washington.
The State Department has begun coordinating with Syria's neighbors to prepare for the handling of President Bashar al-Assad's extensive weapons of mass destruction if and when his regime collapses, The Cable has learned.
Islamists seized most seats in the two-stage vote for Egypt's upper house of parliament, the Shura Council, the electoral commission said on Saturday. The results cap landmark legislative elections that saw Islamists propelled to the centre stage of Egyptian politics.
A commission official said the Muslim Brotherhood's Freedom and Justice Party (FJP) secured 105 seats, the Salafist Al-Nur party took 45, the liberal Wafd won 14, and the Egyptian Bloc eight. Another eight seats went to smaller factions.
The vote, which began on January 29, was for 180 seats in the 270-seat chamber in which the remaining third of seats are allocated by the head of the ruling Supreme Council of the Armed Forces (SCAF), Field Marshal Hussein Tantawi.