Top News

Graphic provided by MEMRI

Gen. Qassem Soleimani, who since 1998 has commanded Iran's Islamic Revolutionary Guards Corps (IRGC) extra-territorial special forces unit, the Qods Force, was designated by the U.S. Department of the Treasury in October 2011 for connection to a plot to assassinate Saudi Ambassador to the U.S. Adel bin Ahmed Al-Jubeir. Earlier, in May 2011, he was also designated under Executive Order 13572, which focuses on human rights abuses in Syria, for his role as IRGC-QF commander, and in July 2005 under E.O. 13382 for his relationship to the IRGC.

In a July 26, 2018 speech, Gen. Soleimani responded to a tweet by U.S. President Donald Trump directed at Iranian President Hassan Rohani, stating that President Trump has the rhetoric of man in a casino or a bar, compared him to a gambler, and warned the U.S. not to threaten Iran. Soleimani declared: "Know that we are near you, in places that don't come to your mind. We are near you in places that you can't even imagine. We are a nation of martyrdom… You know that a war would mean the loss of all your capabilities. You may start the war, but we will be the ones to determine its end."

Paul Manafort, President Donald Trump's former campaign chairman, departs Federal District Court. | Andrew Harnik/AP Photo

Paul Manafort's trial will stretch into a fourth week, as jurors headed home Friday without reaching a verdict for the second straight day and the judge overseeing the case alluded to "threats" the jury may be receiving. 

"I had no idea this case would incite this emotion," U.S. District Court Judge T.S. Ellis III said in an open court hearing, responding to a motion from seven news organizations, including POLITICO, seeking access to sealed materials related to the trial that would have publicly identified the jurors.

Ellis denied the motion, telling the courtroom that jurors were "scared" and "afraid." As a result, Ellis said, he didn't "feel right" releasing the names of the 12-person jury.

A J15 fighter jet landing on China's sole operational aircraft carrier, the Liaoning, during a drill A J15 fighter jet landing on China's sole operational aircraft carrier, the Liaoning, during a drill (AFP Photo/-)

Washington (AFP) - Chinese bombers are likely training for strikes against US and allied targets in the Pacific, according to a new Pentagon report that also details how Beijing is transforming its ground forces to "fight and win."

The annual report to Congress, released Thursday, highlights China's growing military, economic and diplomatic clout and how Beijing is leveraging this to rapidly build its international footprint and establish regional dominance.

In the case of China's air power, the report states that Chinese bombers are developing capabilities to hit targets as far from China as possible.

"Over the last three years, the PLA (People's Liberation Army) has rapidly expanded its overwater bomber operating areas, gaining experience in critical maritime regions and likely training for strikes against US and allied targets," the document states, noting how China is pushing its operations out into the Pacific.

Russian President Vladimir Putin, right, and US President Donald Trump shake hands before a meeting in Helsinki, on July 16, 2018. (AFP Photo/Brendan Smialowski)

A White House official said Thursday that US president Donald Trump and his Russian counterpart Vladimir Putin agreed at their Helsinki summit last month on the need to remove Iranian forces from Syria.

According to a Reuters report, the official said that Putin and Trump spoke about the Iranian presence in Syria during their one-on-one at the summit.

He added that the Russian president had advised Trump that it would be difficult to accomplish this goal.

(From L-R) Likud MK Yehudah Glick, US Ambassador David Friedman and Har Hebron Regional Council chairman Yohai Damari at the US Embassy in Jerusalem on August 15, 2018. (Har Hebron Regional Council)

In a meeting with several settler leaders Wednesday, US Ambassador to Israel David Friedman said that he saw "no reason to evacuate settlements" in a peace deal, a Likud lawmaker said.

MK Yehudah Glick, who organized the sit-down with Har Hebron Regional Council chairman Yochai Damari, recounted the statement to the Times of Israel and said that the ambassador was "very explicit" in his remark regarding Israeli communities in the West Bank.

A spokeswoman for the embassy declined to comment.

Nikki Haley speaks during a Security Council meeting on the situation in Palestine, Tuesday, February 20, 2018 at United Nations headquarters, with negotiators Jared Kushner, left, and Jason Greenblatt, right, behind her. (AP/Mary Altaffer)

WASHINGTON — The Trump administration said Wednesday that neither Israelis nor Palestinian would be "fully pleased" by its long-awaited Middle East peace plan, whose contents are one of the most guarded secrets in Washington.

Jason Greenblatt, US President Donald Trump's special representative for international negotiations, tweeted a statement from multiple officials that said the only way to achieve a final-status accord was for both parties to accept painful compromises.

"No one will be fully pleased with our proposal, but that's the way it must be if real peace is to be achieved," the officials said. "Peace can only succeed if it is based on realities."

BBC Photo

A mysterious Russian satellite displaying "very abnormal behaviour" has raised alarm in the US, according to a State Department official.

"We don't know for certain what it is and there is no way to verify it," said assistant secretary Yleem Poblete at a conference in Switzerland on 14 August.

She voiced fears that it was impossible to say if the object may be a weapon.

Russia has dismissed the comments as "unfounded, slanderous accusations based on suspicions".

The satellite in question was launched in October last year.

"[The satellite's] behaviour on-orbit was inconsistent with anything seen before from on-orbit inspection or space situational awareness capabilities, including other Russian inspection satellite activities," Ms Poblete told the conference on disarmament in Switzerland.

Palestinian Authority President Mahmoud Abbas attends the meeting of the Palestinian Central Council, in Ramallah, in the West Bank August 15, 2018. (photo credit: REUTERS/MOHAMAD TOROKMAN)

US administration officials who are talking about improving the living conditions of Palestinians in the Gaza Strip are "liars," Palestinian Authority President Mahmoud Abbas said on Wednesday. 

Abbas, who was speaking at the opening session of the PLO Central Council in Ramallah, also vowed to pursue efforts to thwart US President Donald Trump's yet-to-be-unveiled plan for peace in the Middle East and the Jewish Nation-State Law.

He also pledged to continue payments to Palestinian security prisoners and families of "martyrs" killed while carrying out terrorist attacks against Israel.

Referring to Trump's unseen plan, which is also known as the "Deal of the Century," Abbas said: "We were the first to fight against it and we will continue to fight against it until it falls. This is the 'slap of the century.'"
---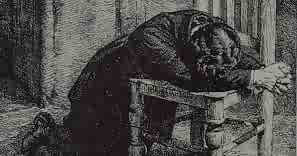 "The men who have done the most for God in this world have been early on their knees. He who fritters away the early morning, its opportunity and freshness, in other pursuits than seeking God will make poor headway seeking Him the rest of the day. If God is not first in our thoughts and efforts in the morning, He will be in the last place the remainder of the day." 
― E.M. Bounds