A Christian speaker said this in an online presentation this week
The same people who say Trump is dividing the land of Israel with the peace plan, but the Palestinians have never accepted the plan. They claim that everything happening in America is a judgment of God because of what Trump is doing to Israel. I am thinking, I am Israeli, we love him. We don't know how to thank President Trump. Every time we think he can't do more, he surprises us. There has never been a friendlier president to Israel in the Oval Office than President Trump.
Because of what he is doing, do you think America is being punished? You got be out of your mind. He needs to get a Nobel Peace Prize. And he needs four more years.
He is not dividing Jerusalem. He is keeping it in our hands. He is not giving them a Palestinian state. Because everything he told them to do, they will never do.
He is bringing all the countries around us that were funding anti-Israel activities for years to our side. And you want to tell me that the fires on the West Coast are because of that. Let me tell you something. They always say that during the fire season. And they always say that during the hurricane season. Do you want to know what a judgment of God is? It is not a hurricane season when the hurricanes comes. Half of those fires are arsons. By the lawless people.
My response
This speaker was told a few years ago with many specific examples that the catastrophes/events are almost all record-setting catastrophes—the most significant events in U.S. history. I mentioned that these events start or happen either right at the beginning of talks or the same day or within 24 hours of actions pertaining to Israel's covenant land. I emphasized the Perfect Storm, the 9-11 terror events and Hurricane Katrina and provided others.
For some reason, he can't process the fact these are enormous record-setting events that happen at the very moment pressure is being applied on Israel, or when there is continued dialogue about a Palestinian state in Judea and Samaria. It doesn't matter whether the Palestinians accept the deal or not. It is a false narrative that is fully backed by the international community at the UN, the EU, and with Russia and China.
These are not regular seasonal hurricanes and tornados or an occasional earthquake. It is denial not to acknowledge the obvious. How can he miss it? Furthermore, considering the laws of probability, the odds of these happening over and over again at the time the land is being dealt with are astronomical.
I then provided to him and a friend last year the short and longer version of the "Eye to Eye" video clip (https://vimeo.com/345474098 ) entitled "The God of Israel will not allow an Arab state in Judea and Samaria." He hasn't responded.
We have all paid an enormous price for the aftermath of 9-11 and COVID-19
Not everything happening in America is God's judgment because of Israel, althought 75 percent of the billion dollar record-setting events over the past 29 years do connect. Moreover, it is great to love the president, and many of us greatly appreciate the courageous things he has done for Israel, but we have 29 years of record-setting consequences that simultaneously correspond to U.S. pressure or involvement in redefining the boundaries of Israel's covenant land. These have been extremely costly to our country and we are all paying a price for it through the consequences of the 9-11-2001 terror events, individuals who have been directly impacted by the catastrophes and now COVID-19, which has directly affected every man, woman and child in the U.S. and also in Israel, not to forget other nations.
The United States just had a seventh record-setting hurricane that was nearing shore as President Trump and Jared Kushner were sponsoring the signing ceremony at the White House. Moreover, Sally dominated the U.S. news the day after. The name of the storm was Hurricane Sally (Sally derives from the Hebrew name "Saray/Sarah.")
I research the meaning of hurricane names from time to time. I hadn't done a search yet on Sally. One of our readers sent me information about the name of Sally being derived from the Hebrew name Saray/Sarah (detail below with screen shots).
I then pondered this and believe the Holy Spirit gave me the following:
 As the Abraham Accords agreement (click here), which states the Arab and Jewish peoples are descendants of a common ancestor, Abraham, was being signed at the White House, it appears the God of Israel may have emphasized through Hurricane Sally (biblical name Saray/Sarah) that the Land of Israel is for Abraham, Isaac and Jacob's descendants, not Ishmael's.
In the past five weeks, there was a massive Midwest derecho on Aug. 10 that hit Iowa and the heartland of America as talks were taking place on the biblical heartland of Israel, Judea and Samaria. President Trump made the announcement of the Israel-UAE deal on Friday, August 14.
There has been all-time record heat in Jerusalem and throughout Israel and the Western United States (that led to fires) that paralleled the final planning of the Abraham Accords and signing.
The costs politically, financially and personally have been enormous for the president. How does a person not see all this? Would it be due to the narrative that President Trump can't do wrong when it comes to Israel?
President Trump is the best friend Israel has had in the White House. He has done more than all U.S. presidents combined. He fulfilled a campaign promise to move the U.S. Embassy from Tel Aviv to Jerusalem. His Secretary of State, Mike Pompeo, after a one-year legal study stated that the settlements in Judea and Samaria are not illegal. President Trump backed Israel's annexation of the Golan Heights by resolution.
President Trump is concerned about Israel's security, and he backed out of the flawed Iran Nuclear Deal (JCPOA). He sincerely would like to see Israel live in peace and security with their Arab neighborhoods.
His son-in-law, Jared Kushner, has been actively working on a comprehensive Middle East peace plan between Israel and the Sunni Arabs. Interestingly, during this three and a half year period the U.S. has experienced seven record-setting hurricanes (Harvey, Irma, Maria, Florence, Michael, Laura and Sally) occurring at the very same time they were working on dividing the land of Israel, supporting an Arab state in parts of Judea, Samaria, and East Jerusalem and using the land as an inducement to normalize relations between Israel and Sunni Arab countries.
It is not about President Trump's significant support of Israel—it is about God's Land
It is not all about President Trump and his support of Israel, it is about the continuation of the Palestinian narrative and the continuation of UN Resolutions. It would be better to fully endorse the San Remo Resolution/League of Nations "Mandate for Palestine" of 1920. Secretary of State Mike Pompeo and U.S. Ambassador to Israel David Friedman know of the legality of the mandate and that it is still in force. 
Friends of Israel greatly appreciate President Trump, but the enormous costs continue.
President Trump presented his Peace to Prosperity deal on Jan. 28, 2020, in the East Room of the White House—the plan that had been developed by Jared Kushner. It spoke of a Palestinian state in up to 80 percent of Judea and Samaria. He tweeted the boundary map to his 73.6 million Twitter followers (now 85 million plus). The following day President Trump established his Coronavirus Advisory Panel. Life in America before Jan. 28 and after are dramatically different due to the coronavirus.
Israeli Prime Minister Benjamin Netanyahu endorsed the Trump plan on Jan. 28. This began an unprecedented difficult period of time for both the United States and Israel. And today Israel is the first country in the world having its second national lockdown, beginning a few hours of Rosh Hashanah and scheduled to last for three weeks through Yom Kippur and the Feast of Tabernacles (Sukkot.)
President Trump was experiencing God's favor in many ways prior to Jan. 28. Since then it has been one crisis after another. Numerous people believe that his handling of the COVID-19 crisis could determine his re-election and/or make the election a closer race and is being used to assail his efforts to deal with the pandemic. Fortunately, Joe Biden is an extremely weak presidential candidate who seems to be slipping mentally weekly.
Granted, there will be a final-day covenant as written in Daniel 9:27, and this effort could very likely lead to the Antichrist's seven-year deal. However, I stand for God's covenant land instead of supporting agreements that will become or lead to the Antichrist's deal.  
The Bible also says in Joel 3:2: I will also gather all nations, and will bring them down into the valley of Jehoshaphat, and will plead with them there for my people and for my heritage Israel, whom they have scattered among the nations, and parted my land.
The following are key links to summaries of "Eye to Eye" consequences.
List of the events:
Life in America before and after the Trump "Peace to Prosperity" plan was delivered on Jan. 28, 2020
https://watch.org/eye-to-eye/life-america-and-after-trump-"peace-prosperity"-plan-was-delivered-january-28–2020%C2%A0
Seven record-setting hurricanes during the Trump/Kushner peace efforts:
https://watch.org/eye-to-eye/trump-administration-peace-activities-and-seven-corresponding-record-setting-hurricanes
Over 100 billion-dollar record-setting catastrophes and/or events
https://watch.org/eye-to-eye/eye-eye-over-100%C2%A0billion-dollar%C2%A0record-setting-catastrophes-andor-events-–-william-koenig
$13 trillion and growing "Eye to Eye" events since 1991
https://watch.org/eye-to-eye/13-trillion-and-growing%C2%A0eye-eye%C2%A0events-1991
———
Sally derives from the Hebrew "Saray/Sarah" name: Was Hurricane Sally a rebuke of the Abraham Accords?
For two days the Abraham Accords shared the screen shot with Hurricane Sally.
On Wednesday, Hurricane Sally shared the screen with Jared Kushner, Vice President Mike Pence, Former Ambassador Nikki Haley, national Security Advisor Robert O'Brien, Kushner and others who spoke of the Abraham Accords.
Tuesday, Sept. 15, 2020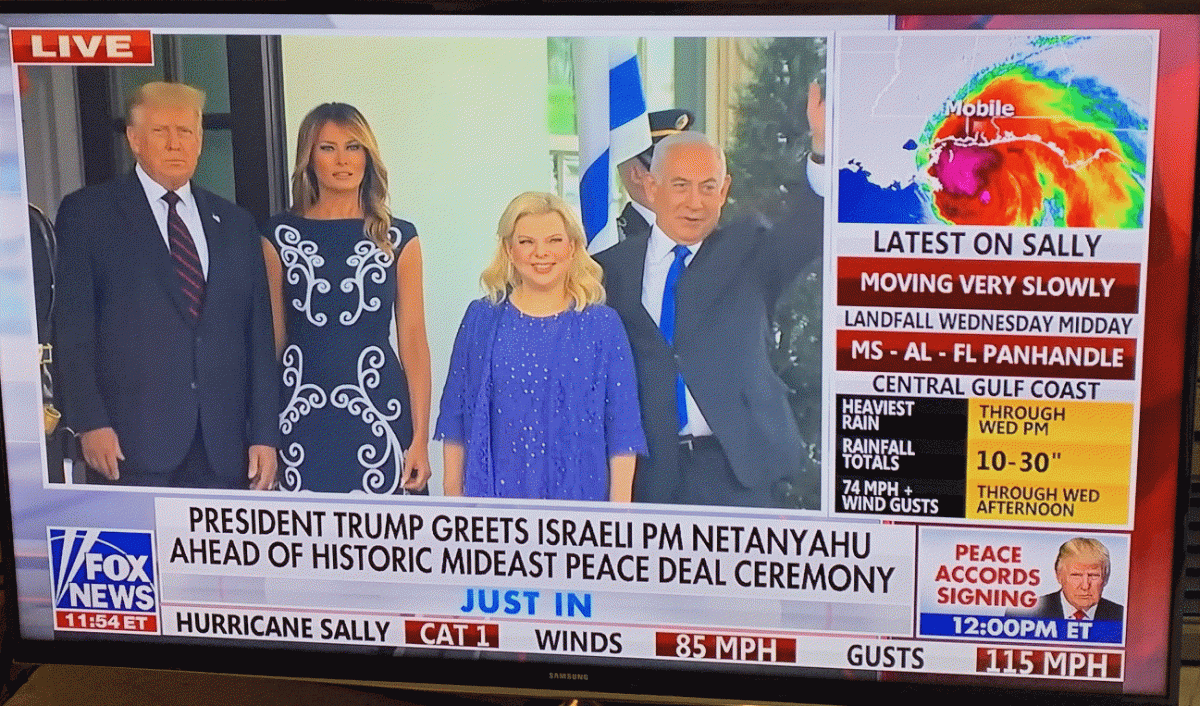 Wednesday, September 16, 2020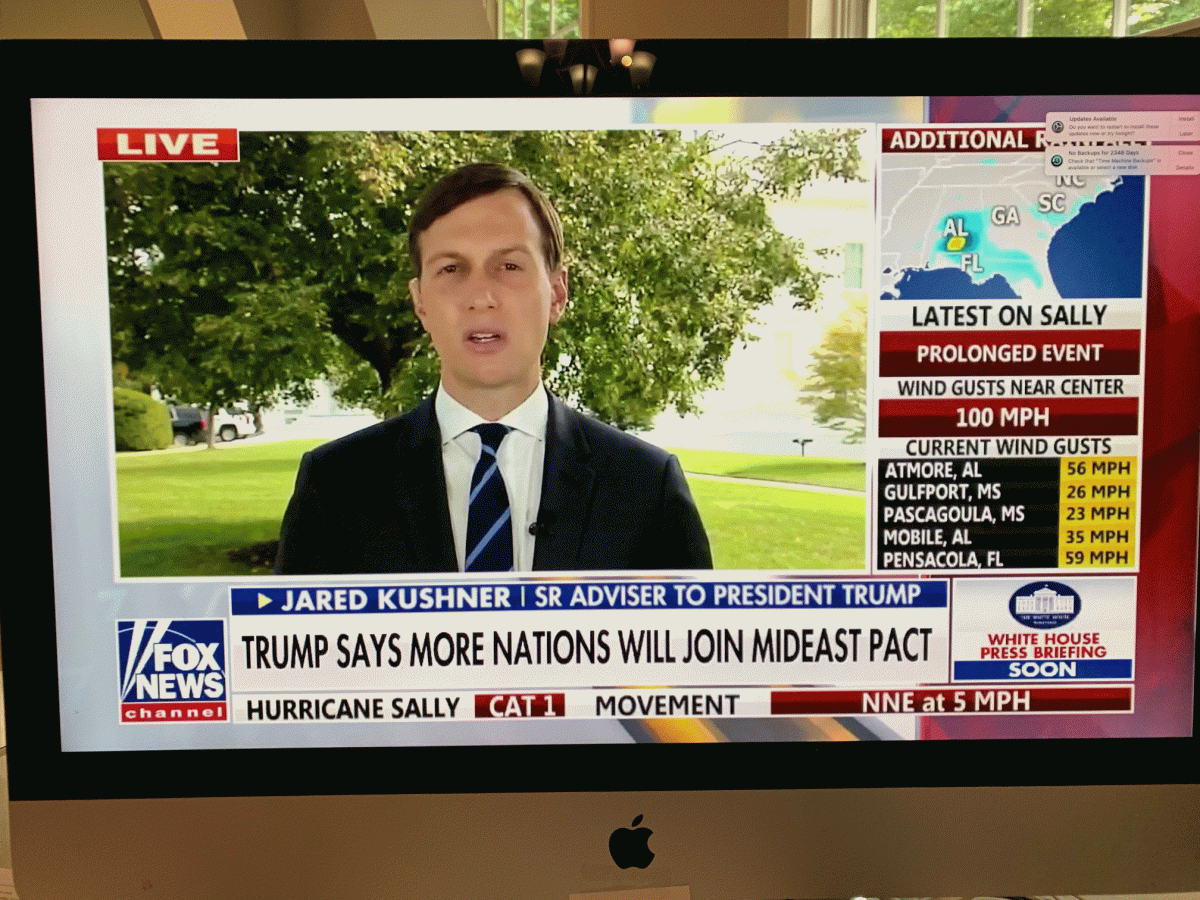 ———
Tuesday, Sept. 15, 2020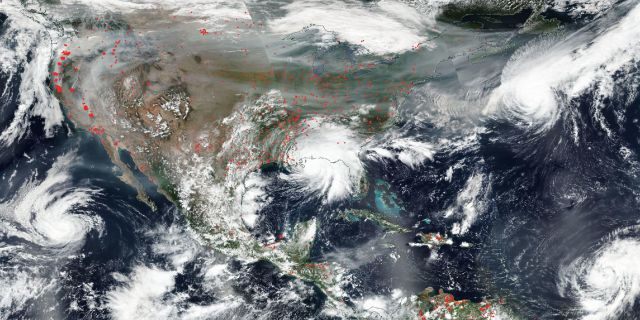 Smoke and Hurricane Clouds: NASA's Aqua satellite captured the true-color image on Sept. 15, 2020. (Credit: NASA Worldview, Earth Observing System Data and Information System.)
NAME: SALLY
ORIGIN: HEBREW
NAME ROOT: SARÁY / ŚĀRĀ > SARAH
NATIVE NAME ROOT: ŚĀRĀ (שָׂרָי) SARAH (שרה) SĀ́RĀ (ΣᾹ́ΡᾹ)
MEANING: This name derives from the Hebrew "Saráy / Śārā > Sarah," meaning "woman of high rank, Princess, essence, speckled." The name refers to the wife of Abraham and the mother of Isaac as described in the Hebrew Bible, the Christian Old Testament, and the Islamic Quran. In origin, his name was "Saráy." According to Genesis 17:15, God changed her name to Sarah as part of a covenant after Hagar bore Abraham his first son, Ishmael. This name is a consistently popular across Europe and North America, as well as in the Middle East being commonly used as a female first name by Jews, Christians and Muslims alike, and remaining popular also among non-religious members of cultures influenced by these religions.
Source: https://www.name-doctor.com/name-sally-meaning-of-sally-6623.html
Sally's chronology: Tropical Depression 19/Hurricane Sally, started four hours after Trump announced the Israel-Bahrain deal. Yesterday, the big news was Hurricane Sally's massive rain production and flooding buildup on the day of the Abrahamic Accords signing. Landfall the next morning.